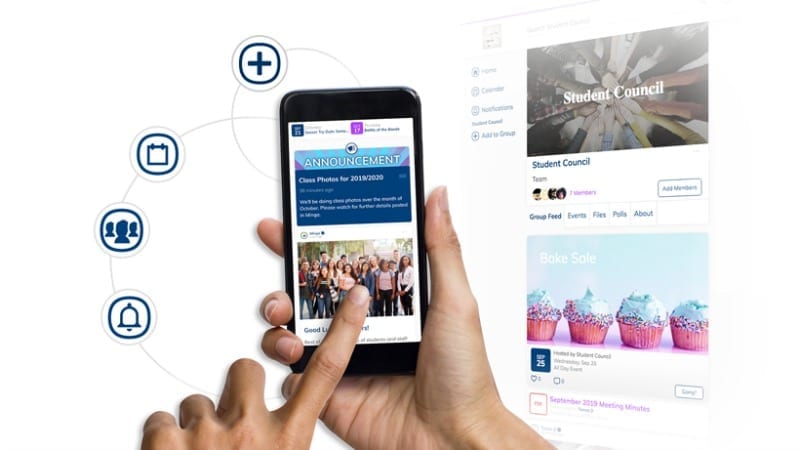 Brought to you by Minga
Do more with Minga, the ultimate school communication platform. Engage directly with your entire school community in one place, with group or school-level subscriptions available. LEARN MORE ABOUT MINGA AND ITS FEATURES >>
More
Emails get quickly forgotten. Papers never make it out of the backpack. And automated phone messages can only get you so far. Sound familiar?
There is a better way to connect and communicate with your students and their families: Minga. Minga is not just another app or communication tool. It's so much better.
Get messages out quickly, easily, and to everyone.
In many middle and high schools, there are dozens of different messaging systems and apps floating around. It's overwhelming.
Let's streamline school communication by giving just one place to go. This way, messages will actually get read. Plus you'll save so much time by simplifying your communication system. Yes, this is a solution that has worked time and time again for schools as they roll it out to teachers, coaches, band instructors, and all staff.
Minga is safer than using social media platforms.
If you, your faculty, and staff are using platforms like Instagram or Facebook to communicate with students and parents, then it's probably time to stop. And the same goes for many of those sports communication tools and messaging apps that are floating around. A lot of those apps are not set up for use by and for children. In some instances it's not safe either. With Minga, you can feel confident, knowing you're using secure, safe, and approved methods of communication.
Even teens will like (and use) Minga.
Students can like and comment on posts, respond to polls, and RSVP to events, just like on their favorite social media apps. The focus on imagery helps to draw students in and keep their attention.
You really have to see it for yourself. The demo will make you a believer. Just click the orange button to check it out or sign up for a free trial.