Everything you need to encourage students to recycle.
You and your students can help to make the world a better, more sustainable place. Change starts with one bottle, one person, one action. Below, you'll find resources created in partnership with PepsiCo's school program, Recycle Rally, to help make a difference at your school. Learn more about Recycle Rally and get free resources here.
Use our free, printable recycling posters to encourage students to take care of the earth.
Recycling Activities
Get your students writing about recycling, conservation, and being good green citizens!
Sign Up for the PepsiCo Recycle Rally!
Get your students pumped up to recycle by joining PepsiCo's Recycle Rally. When you set recycling goals to increase recycling and track progress, everyone wins! It's free, it's easy and it comes with loads of perks. Get the full scoop here.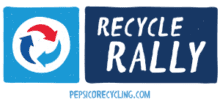 Recycle Rally has partnered with Jeff Kinney, bestselling author of the Diary of a Wimpy Kid book series. Join us as we recycle with Rowley and make an impact every day - one awesome, friendly act at a time.
Get composting! We generate 21.5 million tons of food waste each year. If composted, that food would reduce the same amount of greenhouse gas as taking two million cars off the road. - EPA
A gameshow-style quiz to take with your students to find out how savvy of a recycler you are.
Your green curriculum just got an upgrade.

Only three in ten plastic water bottles get recycled. Recycling plastic bottles produces twice as much energy as burning them in an incinerator. - EPA
Recycling Resources for Teachers
From the time a used aluminum can is put in a recycling bin, it typically takes approximately 60 days for that can to be made into a brand new can. Learn more about the process with this fun infographic.
Classroom Recycling Ideas
Help your students take recycling to a whole new level in your classroom with these inspirational ideas and projects.