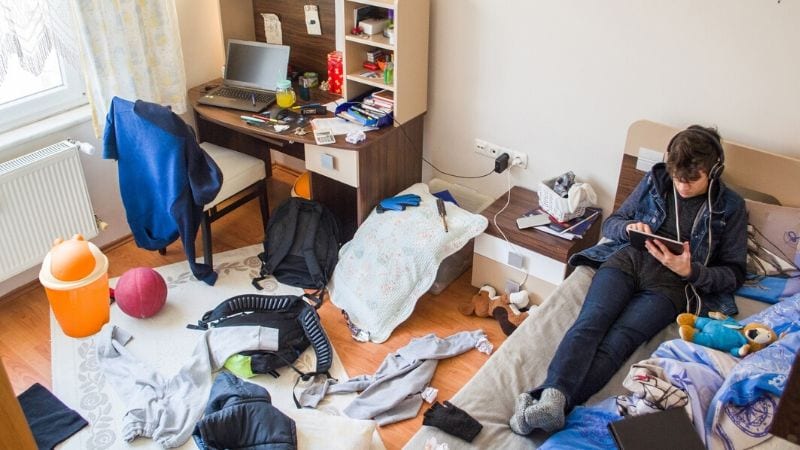 Brought to you by EVERFI
EVERFI empowers educators to bring real-world learning into the classroom. Their free, online Mental Wellness Basics program introduces middle and high school students to foundational mental health education digitally. Learn more and get access>> 
If you teach middle or high school, chances are you've had at least one student that you've been concerned about this year. The kind of kid that you'd normally pull aside after class to talk about what's going on. Now you have to try to chat on Zoom—if they show up at all.
As teachers, our own mental health is suffering after months of uncertainty and change. It's no surprise that many of our students are struggling, too.
"Obviously, the pandemic has shone a spotlight on mental health," says Erin McClintock, EVERFI's Vice President of Community Engagement, Impact, and Education. "Even before the pandemic, we had what many would consider a mental health crisis, and it has only been exacerbated."
Mental wellness matters during COVID-19
There is a growing need for mental health support for youth. From anxiety to depression, which can be compounded by issues like bullying, trauma, and lack of access to basic needs, 20 percent of children and adolescents will experience a mental health concern during their school years.
This year, that need is even more pressing. The pandemic has meant closed schools, financial insecurity, and a decrease in social connection, all things that uproot teens' lives. A recent survey found that in 2020 the proportion of teens age 11 to 17 who searched for help with mental health was up 9 percent.
"Some students are doing well," says McClintock, "but for others, it's been a real problem." Now that we're seeing the impact of the pandemic, how can we strengthen students' mental health and resilience? We talked with two teachers who already emphasized mental health in their classrooms about what they're doing this year.
Make mental health part of the daily check-in
"Teachers are in an important position to support teens' mental health," says McClintock. It can be as simple as helping students see the connection between their mental health and academics. At Ohio Virtual Academy, eighth grade math teacher Kimberly Palocsay uses EVERFI's free online curriculum Mental Wellness Basics to check in with her students and give them the language they need.
The curriculum consists of four self-paced activities that take about fifteen minutes each. Palocsay uses the program's framework as a tool for talking about mental health for an entire semester. And she predicts her students will use it for long after, too.
After completing Mental Wellness Basics, Palocsay says her students are able to think more critically about their feelings and actions. The curriculum gives her a vocabulary to use when checking in with her students. "Once kids can name something, it becomes easier to understand and relate to," says Palocsay. "And for mental health, this can be a really important way to reduce stigma."
Mental health education can be wherever students are
Many of our students have gotten used to radical shifts in learning this year. "As many schools move from remote learning to hybrid, the transitions can be tough for students," says McClintock, "it requires emotional agility to go back and forth." The good news is that Mental Wellness Basics can easily be used online or in-person.
"Assessing and monitoring kids' mental wellness in an online classroom is different than in a traditional school," says Palocsay. You can't just look at a child to see if they're ready to learn. The online format of Mental Wellness Basics paved the way for her students to open up about their mental health. But the program works well for students in more traditional settings too. Tracy Bonebrake-Miller, a tenth grade teacher at Waynesboro High School in Pennsylvania, used Mental Wellness Basics while school was in session. Now she continues to use the lessons remotely and finds the content to be more relevant than ever.
Start with self-awareness
According to the Collaborative for Academic, Social, and Emotional Learning (CASEL), self-awareness is one of the core social-emotional competencies that students need in order to succeed. Self-awareness is critical for students to recognize when they're struggling and identify the tools necessary to get through it. After Mental Wellness Basics, Palocsay noticed her students were quicker to name their own feelings and experiences. From there, she was able to help them enhance their self-awareness by talking through the impact of their actions and decisions on their overall well-being. For example, if they didn't get enough sleep the night before, they might feel grumpy and snap at a friend. Needless to say, self-awareness takes on even more importance during a pandemic. We all must acknowledge how we feel in order to stay well long-term.
Perspective-taking is another critical skill
Mental Wellness Basics lessons also helped Palocsay talk about perspective taking, an important social awareness competency. Teenagers can find it difficult to understand that others have the same feelings and responses they do. Just the awareness that others are going through the same thing—for instance, that parents may also be stressed about having to stay home—is helpful. "That was the biggest thing (my students) came back to me with. They started having awareness of why their parents or others did what they did," she shared.
Teens can—and will—develop self-care strategies that work for them
Even though her students have completed the program, Palocsay continues to embed the lessons learned from Mental Wellness Basics. She regularly encourages her students to talk about how their schedules and technology impact them and how they plan their days to get enough food and sleep. When students figure out how to use even simple strategies, like setting a reminder to go to bed on time, it has a ripple effect.
These lessons help students practice mindfulness and stay present. For example, when a student logged in to Palocsay's class and said he was too worried about the coronavirus to think about math, she encouraged him to try and let math take up the space he was using for worrying for a few minutes. This year, make coping strategies an everyday thing by posting coping strategies in a place that students can access. When you're learning online, provide a page with coping strategies in your online learning platform or in students' daily agenda. That keeps the language consistent and reminds students that they have skills they can use to feel better.
Starting a conversation about mental health can empower students now and in the future
Giving students a way to talk about mental wellness can help bring it into discussion regularly. In Bonebrake-Miller's class, students process what they learned online through class discussions. The hope is that talking about mental wellness at school will spill into the home. Kids likely may not talk about traditional academics over the dinner table, says Palocsay, but they may share what they learned and thought about in Mental Wellness Basics and how it relates to them. Even after the pandemic is over, students will need to have a bank of mental wellness skills. The goal of starting with this online program is to ultimately give students a way to think and talk about mental wellness, so they can build strategies to use now and long after.