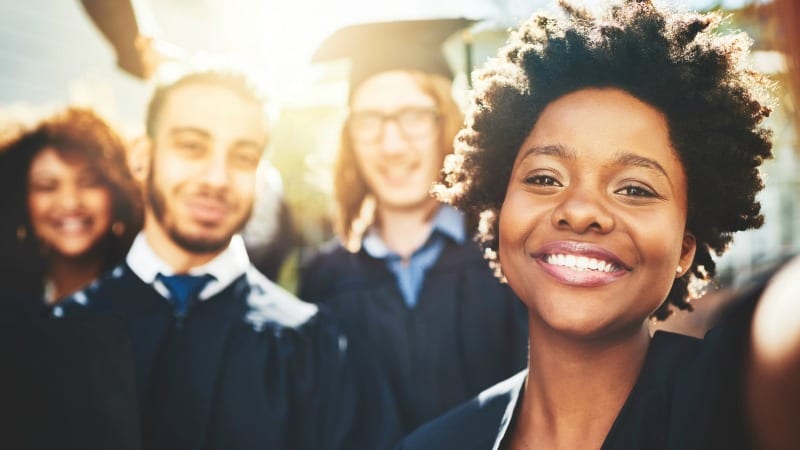 Brought to you by Universidad Europea del Atlántico
Bilingual teachers can get a top-rated master's degree in applied linguistics, in teaching both English and Spanish as a foreign language, or a dual master's in teaching English and Spanish—all from the comfort of home. UNEATLANTICO degree programs are ANECA accredited and are easily validated in North America. Bilingual teachers get the benefit of learning from top-rated Spanish professors for intense language learning, cultural interaction, and practical curricular experiences. Learn More »
So, you want to get your master's degree. But you've heard it's hard to find a good program. And when you do, those programs are expensive. And it can take so long to finish that by the time you do, you'll be ready to retire anyway.
We know furthering your education can be a huge investment of time, money, and energy, so we want to make sure you have the whole truth and nothing but it. To help, we dug up eight of the most common master's degree myths and had our team of veteran educators dig up the truth behind those misconceptions.
Myth #1: You have to stop teaching when you go back to school.
The Truth: False, false, false
There are many amazing flexible online programs that allow teachers to continue teaching while they get their degree. Some programs even offer cool experiences, like summer study abroad programs or traditional cohort experiences during common school breaks.
Myth #2: Getting your master's degree is really expensive.
The Truth: True and false
We're not going to lie to you: A master's degree is expensive. But according to a study by CareerTrend.com, teachers with a master's degree make an average of $11,490 more per year, which means your tuition expenses can quickly be recouped, even if you spend a bit of your big pay raise on a fancy vacation or a new pair of boots.
Myth #3: If you want to work in the United States, you must get a degree from an American university.
The Truth: False
The US has an academic equivalence process that allows students to get accredited degrees from foreign universities. This process can be very simple, especially if the foreign university has been evaluated and approved by accrediting bodies. (So, to quote Dr. Seuss, "You have brains in your head. You have feet in your shoes. You can steer yourself in any direction you choose. You're on your own. And you know what you know. And you are the guy who'll decide where to go.")
Myth #4: A master's degree takes a long time to complete.
The Truth: True and false
According to US News and World Report, more than 61 percent of people who begin master's degree programs in education finish in less than two years. That said, teachers who continue to teach while getting their degree, or teachers who utilize a more flexible online schedule in order to balance other obligations, often spend more time completing their degree.
Myth #5: You should focus on one specialized degree area at a time.
The Truth: False
While undergraduates are often encouraged to choose a degree path and stick to it, master's degree candidates have more freedom to explore new topics and study different areas. Because many degree programs include coursework in common, oftentimes a dual master's degree can be completed in a similar amount of time as a single master's. (And the price is also often similar!)
Myth #6: Only young teachers should pursue higher education.
The Truth: False
New teachers can definitely benefit from learning from expert teachers early on in their career. But more experienced teachers can benefit as they are able to apply their classroom experiences to their own education and use that to transform their teaching. Ultimately, the decision on when to pursue an advanced degree is really personal. The timing is contingent on so many factors, including your personal life, your career path, your goals, your family situation, and your finances. Do an evaluation on what works best for you and your situation.
Myth #7: If you don't have top-notch credentials, you can't get into a good school.
The Truth: False
If your past educational experiences were less than top-notch, we recommend looking into programs that are a bit less traditional. Many online programs take more of a big-picture approach and admit students based on their experience and portfolio of work instead of their undergraduate grades or test scores.
Myth #8: All master's degree programs are the same, so just pick one.
The Truth: False
There are amazing programs out there for teachers. It definitely can be daunting to sort out all of the intricacies of each program, but we recommend taking some time to do your research, because the last thing you want to do is invest a lot of time and money into the wrong program. And the right program? Well, it could change your life and your career for the better.