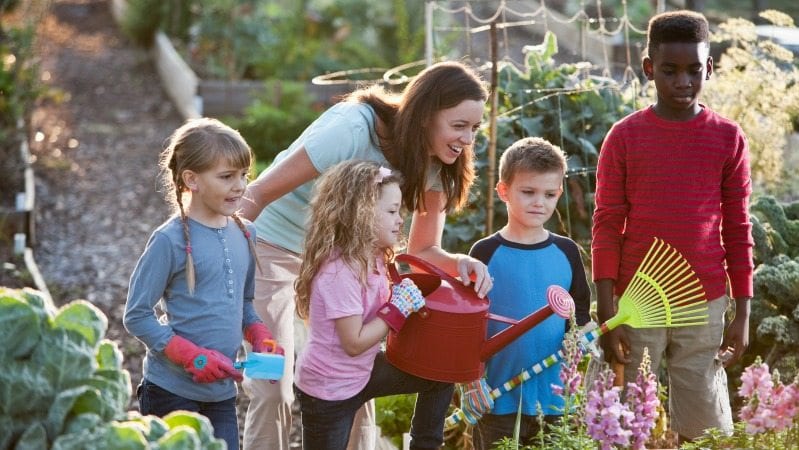 Students have long been taught that, as adults, they must contribute to society in a meaningful way. It's an important sentiment, and one that many students take to heart. It can be difficult, though, for students to truly understand and appreciate such lessons in civic responsibility when they don't have the opportunity to actually experience these lessons firsthand. As a result, increasing numbers of schools and extracurricular programs have instituted service-learning projects as part of the curriculum.
Service-learning is a teaching strategy that combines classroom instruction with active community service. It can be used effectively with students ranging from kindergarten through college. By participating in projects that serve a community, students learn to apply the theoretical concepts that they've learned in class to situations in a real-world context. Students learn valuable planning, management, and problem-solving skills while engaging in a service that benefits the community. In this way, students learn civic responsibility as well as a deeper understanding of the overall concepts taught in class.
Service learning vs. community service
Although it is easy to do so, service-learning should not be confused with community service. The National Service-Learning Clearinghouse succinctly illustrates the difference between the two:
Community Service:
If students remove trash from a streambed, they are providing a service to the community as volunteers.
Service-Learning:
When students remove trash from a streambed they:
analyze what they found
share the results and offer suggestions for the neighborhood to reduce pollution
reflect on their experience
Service-learning, then, extends beyond the act of providing a service to include reflection, problem-solving, and a process to ultimately bring about a lasting change that benefits the community. When students are able to reflect critically on their service experience, they are able to gain a much deeper understanding and appreciation of the ideas discussed in class, such as the notions of philanthropy and civic responsibility. The ability to reflect on their overall service-learning experience can have a powerful impact on students, and may well instill the desire to seek additional service projects or community efforts in the future.
Grade: K-2
This unit can be used as a supplement or as a stand-alone review about the needs of plants, parts of the plant, and the life cycle of a plant. Before starting this unit, plant flower seeds (marigolds are ideal) enough in advance that they are already flowering. The students will be exposed to music, visual arts, pre-writing and writing activities. And they will participate in a service-learning project involving the beautification of the community. Students will collaboratively decide on a location to plant flowers to further their understanding of needs and wants in the community.
One of the things that I like about this project is that it can be seamlessly integrated into an existing unit about plants and the life cycle. I also like the opportunity to boost the collaborative skills of younger students, as they decide collectively where in the community to plant their flowers.
Subjects: Civics, Health, Writing
Grade: 3-12
The Helping Children in Hospitals service-learning project was supports children during their hospital stay. Students learn about pediatric hospital care and the roles that health care providers and volunteers play in helping hospitalized children. Students also plan, raise funds, promote, and perform a service project for hospitalized children. Use this curriculum for an after-school program or in a classroom. I particularly like that this project ultimately benefits other kids.
Subjects: Civics, Writing, Economics
Grade: 9-12
This project provides an opportunity and encourages high school students to help meet some of the needs of today's senior citizens by performing weekly grocery shopping for elderly shut-ins. I like that this project combines real-world economic literacy skills in addition to providing a much-needed community service. This project is the brainchild of high school teacher Janie Warsinskey of Wheeling, West Virginia, and housed on the National Service-Learning Clearinghouse's Web site.