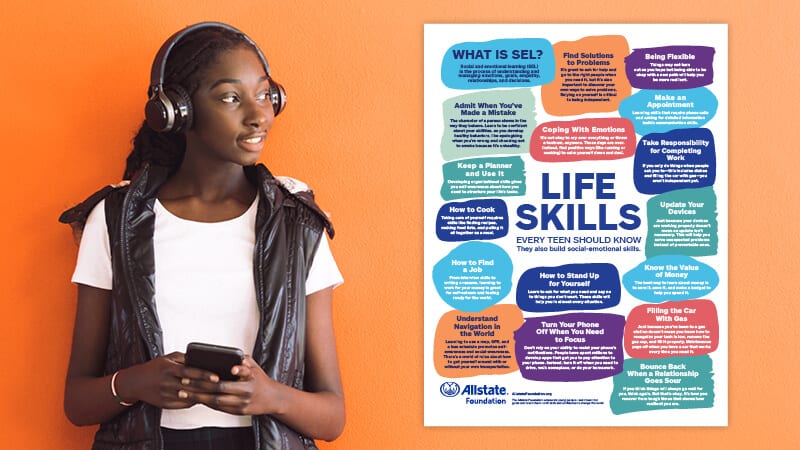 Brought to you by The Allstate Foundation
The Allstate Foundation empowers young people—and those that guide and teach them—with skills and confidence to change the world.  Learn more >>
Teens have already learned many of the life skills they'll need to become a successful adult, but there are many more they can practice. Ever wonder what those are and how they tie to success? We did too!
That's why we partnered with The Allstate Foundation, to create this free printable poster called "Life Skills Every Teen Should Know." This poster doesn't just list these life skills, it also builds social and emotional skills (SEL). Research shows SEL can improve academic performance, improve student attitudes toward school and increase ability to manage stress and depression. It also helps students build important skills like teamwork, empathy and communications.
Here are some of the life skills you'll find:
MAKE AN APPOINTMENT
Learning skills that require phone calls and asking for detailed information builds communication skills.
ADMIT WHEN YOU'VE MADE A MISTAKE
The character of a person shows in the way they behave. Learn to be confident about your abilities, so you develop healthy behaviors, like apologizing when you're wrong and choosing not to smoke because it's unhealthy.
BEING FLEXIBLE
Things may not turn out as you hope but being able to be okay with a new path will help you be more resilient.
  Get My Teen Life Skills Poster Get My Life Skills Poster (in Spanish)