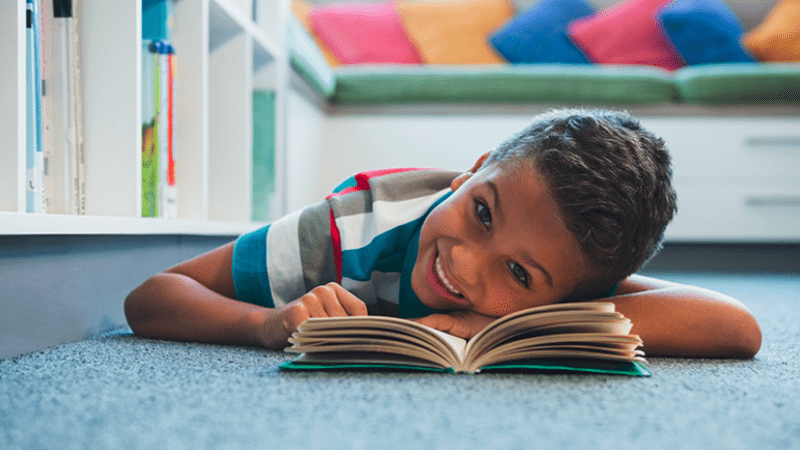 A leveled library can be an educational pot of gold. With a wide selection of literary pickings, a leveled library supports teachers in providing students with materials and texts at various reading levels.
The library is a space that needs to be easily accessible to all teachers, with high-quality, diverse titles in many genres, levels, and themes, as well as multiple copies for small-group instruction.
Here are 15 fantastic hacks that will maximize how your school's library works for you and your students. They just might have you rethinking how your teachers work together to create a culture of literacy.
1. Designate a Single Checkout Device
Don't rely on teachers to bring their devices to the library, download their own apps, and scan items in and out. That'll never happen. Make it easy for everyone by keeping a designated checkout device in the library that's set up just for tracking leveled books.
2. Use Organizational Apps
When you purchase a pre-packaged Leveled Bookroom from Scholastic, it comes with its own digital management system that helps teachers to find books, create text sets, and check books in and out. If you're taking a more DIY approach, however, consider using the free Scholastic Book Wizard to help level your books.
3. Set Up Cozy Nooks
Gathering the right books for students takes thought and consideration. Set up a cozy space in your leveled library with a table and chairs for teachers to figure out what they need. Keep pencils and paper available.
SOURCE: Bridge Point Elementary in Austin, Texas
4. Create an Information Center
There are as many ways to use leveled books as there are students in your school. Keep ideas for how to use book clubs, genre studies, and even correlation charts handy to help teachers get their job done more easily.
SOURCE: Susan Jones Teaching
5. Develop an Online "Ordering" System
Consider creating an in-school delivery system for leveled reading needs. Orders placed on Wednesday before 3 pm will be delivered on Monday before 8 am. Create a Google form, which can be found online. Teachers indicate which level books they need, what genres or subjects, and how many of each.
6. Organize Mobile Classroom Libraries
For some schools, it might be easier to set up the leveled library in mobile mini-libraries. You could either set up each cart beforehand so teachers can trade one library for another, or you could keep the tubs empty and have teachers design their own mini-libraries as they need them. When they need to return the books, they just wheel the cart back in and start fresh.
SOURCE: Clever Classroom
7. Create a Library Newsletter
An email newsletter can be a great way to share ideas for using the library as well as information about new books and resources. Tools like MailChimp make it easy to create free email newsletters.
8. Stock Your Library Inexpensively
There are lots of different ways to accumulate the books you'll need for a leveled library. The easiest and most thorough is to purchase an entire set from Scholastic, where the books and teaching resources have been meticulously chosen to provide a diverse, high-quality Leveled Bookroom. If you don't have access to that option yet, consider these ideas.
9. Set up a Return System
The better your library, the more important it is to develop a return-and-restock system. There are high and low tech options. With Scholastic's Leveled Bookroom 4.0, the return system is optimized for users of the bookroom to check online to know who has a book checked out at any given time! Many schools also set up leveled return baskets like this one in Rice Lake Middle School in Wisconsin.
SOURCE: Literacy Coach
10. Label Shelves, Tubs, and Books
Some books will come pre-packaged and labeled, but you'll need a very easy system for locating and putting away books. You might consider painting shelves colors that correspond to the color of the level on the books.
11. Place Student Book Reviews Inside Books
Do you have a student who loved a book from your library? Ask him to write a book review explaining why someone else should read it as well. Check out these free review bookmarks.
SOURCE: Education World
12. Keep Rubber Bands Available
Teachers using the leveled library will want to band similar books together. Make this process easier for them with these Container Store rubber bands.
13. Make Personalized Cloth Shopping Bags
We use shopping bags at the grocery store, why not for the library? Check out these inexpensive tote bags to help teachers move between the bookroom and their classrooms.
14. Emphasize End-of-Term Check-Ins
At the end of each grading term, make it a point to gather all library books. These regular check-ins help keep a focus on the leveled library, and remind teachers that many quality, diverse books are available to help students learn to read and read to learn.
15. Try a Bookroom PLN
Book a time with teachers to discuss the leveled library. How is it working? Do they see a learning progression throughout grades? Are there any problems that need to be resolved as a team? The more teachers work together and are given the time and space for problem-solving, the more successful their students will be.
Join our Facebook group Principal Life for more ideas on how to transform your school.