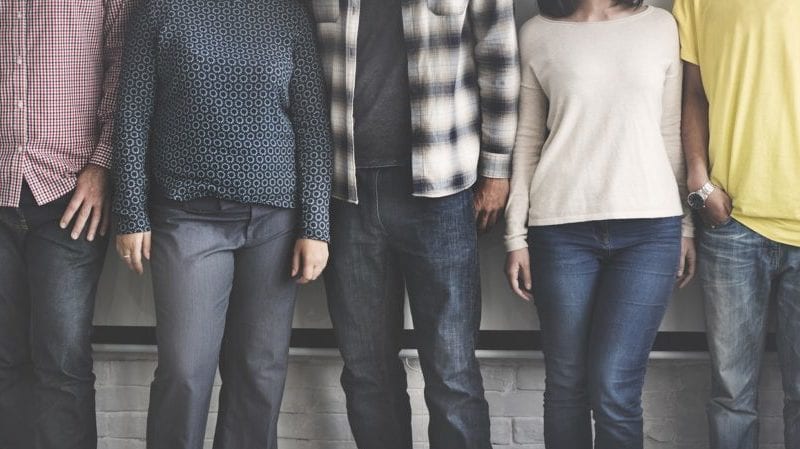 History repeats itself, but sometimes it shouldn't. That's why it's important to be teaching tolerance.
The Holocaust, the Salem Witch Trials, and Women's Suffrage immediately come to mind when I think of events that never should have happened. So much hatred and intolerance for those who were different resulted in incredible devastation that we should work hard to avoid in the future. While some refuse to acknowledge the significance of our shared history and how it affects the future, teachers are at a distinct advantage to replace the horror with hope for the sake of education.
When my colleague (and dear friend) Ms. Beth Ryce came into my classroom with a project idea to turn victimization into activism, I was instantly onboard. We sat together and chatted about what we wanted our students' takeaway to be. It turned out our goals and the title of the project were one and the same: RIGHTS.
Recognizing
Individual and
Global
Humanity for a
Tolerant
Society
The R.I.G.H.T.S. Project
The R.I.G.H.T.S. Project is an extensive multifaceted program that requires students to research, write, collaborate, present, and utilize available technology. Nonfiction, historical pieces familiarize students with various atrocities that have victimized individuals or groups of people, and the overall objective is to encourage activism to prevent future instances of intolerance.
As English teachers, we understand that the history behind the literature is as important as the story itself, so we asked the World Cultures teachers to work with us. A cross-curricular project was slowly coming to fruition, but we still needed to sort out the specifics before presenting our idea to the administration.
You know how that goes: Happy hour turns into an extended plan period, and by the end of an ordinary Friday evening, you and your co-workers have solved the world's problems.
OK, so we didn't necessarily solve any global issues, but we were confident that our project would foster empathy and impart knowledge. Knowledge that would hopefully breed a kinder, more tolerant body of students.
And you know what? It did.
Beth and I were so thrilled with the students', administrators' and community's reception of the R.I.G.H.T.S. Project that I'm sharing the details with you here in hopes that you, fellow educator, will implement this valuable collaborative assignment in your schools.
Introduce the Teaching Tolerance Project
Introduce the project with brief explanations and examples of victimization, then transition into the ultimate goal of the project: activism. Group your students however you are comfortable; my favorite method is polling their interest in the following topics and grouping them accordingly:
Victimization based on …
Race
Gender
Religion
Sexuality
Ethnicity
Politics
Health/Disabilities
Assign Historical Events
Once groups are organized, give each a list of historical events based on their responses to the aforementioned topics (e.g. Race—Jena Six, Jim Crow Laws; Politics—Blood Diamonds, Cuban Missile Crisis, etc.).
Each group must choose their top three events, understanding that they may or may not get to study their choices, and that final topics will be assigned by you. When they're done whining about the possibility that they might not get what they want, explain the different parts of the project:
Two- to four-page research-based paper
Interactive, visual component
Oral presentation*
*In the past, we have blocked out an entire day in the auditorium for our presentations and invited various stakeholders to attend. Other classes and grades came to watch the presentations, and it soon became a school- and community-wide event.
Add Roles and Responsibilities
Just as students' heads are about to explode, ease the tension with the Roles & Responsibilities descriptions.
Not every student will be completing every part of the project; however, they all must speak during the oral presentation (at least my students have to. I'm so mean!).
Each group member should commit to a role and its corresponding responsibilities:
Director

 maintains appropriate tone and focus and acts as liaison between the group and teachers.

Editor

 proofreads and assembles hard copies of work.

Timekeeper

 keeps daily progress and communication logs.

Creative Contact

 heads up activity and visual aid production.

Speech Consultant

 organizes and modifies all components of the speech portion: who speaks when and on what topic, transitions between speakers, etc.
This project takes a considerable amount of time, but the end result is more than worth it. The valuable skills students use to complete the R.I.G.H.T.S. Project are the same ones that they will use in college and in the workplace: collaboration, open communication, time management, etc. R.I.G.H.T.S. is so powerful and such a visual endeavor that it makes for great newspaper fodder; invite your local paper to cover the presentations!
If preparing students for the future, using history and literature to create awareness and empathetic citizens, practicing invaluable skills, and possibly snagging some positive press for your hard work aren't reasons enough to implement the R.I.G.H.T.S. Project in your district, don't forget about the icing on the proverbial project cake: teaching tolerance to prevent further acts of hate and intolerance.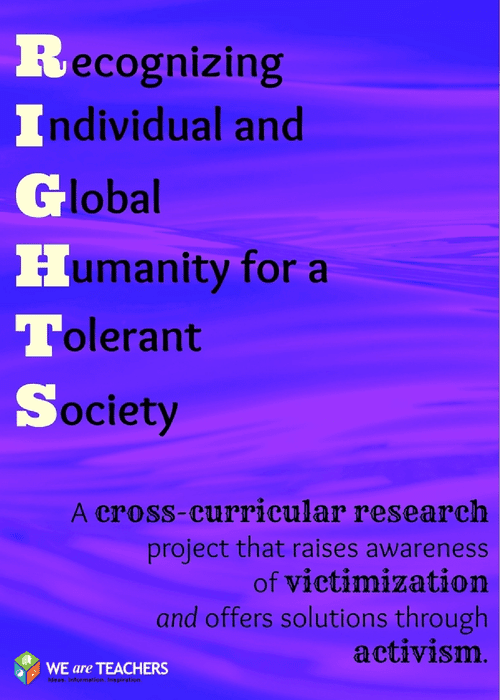 How do you go about teaching tolerance in your classroom?