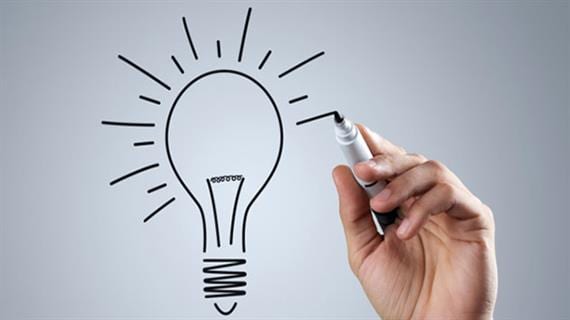 Whiteboard Success:
13 Bright Ideas for the Interactive Whiteboard
By Natalie Lorenzi
Whether you've been using an interactive whiteboard (IWB) for years, or you've never turned yours on, ramp up your students' learning with these easy-to-learn (and teach!) strategies.
Hold That Thought
Use a fresh whiteboard page as a blank canvas. Whether your class brainstorms a list of words that begin with the letter a, a list of endangered animals to research, or the implications of a constitutional amendment, preserve those ideas by using the IWB capture tool to save the entire page or a section of the page. Save the ink layer, then capture a screenshot that you can either print, save or post on your class website.
Capture the Moment
Go beyond capturing a single page when you put your whiteboard's screen recording tools to work. Record the sequence of IWB pages used in your lesson, including audio. You can experiment with free online screen recording tools such as Jing, Screencast-o-Matic, Snipping Tool for Windows or Skitch for Mac users. Students can even capture what they're doing on their own screens, then you can create and embed a video of their work into your IWB lesson. For a biography unit, students might work individually or in small groups to create digital posters highlighting their subjects' achievements. Gather their work into a video to use in another lesson, on your class or school's website or to share at a special parent night.
Ready-Made Lesson Plans
Interactive whiteboard manufacturers provide online resources and ready-made lesson plans for teachers by teachers. (Check out the SMART Exchange, for example, or Promethean Planet.) Need lessons that meet STEM or Common Core standards? They've got them. Or you can peruse their lesson banks by state standard, subject or skill to match the needs of your students.
Try a Template
Use one of the many ready-made templates to fit your objectives. Graphics, sounds and special effects are ready to go; all you need to do is plug in math fact families, poetic figurative language or test review questions for a rousing round of classroom Jeopardy. You'll also find classroom management templates for tasks like taking roll and recognizing positive behavior. Pay it forward by sharing your own templates at the teacher hub on your IWB manufacturer's site.
Learning Styles
Perhaps the biggest advantage interactive whiteboards offer is the ability for your students to interact with the subject matter and manipulate objects right on the whiteboard. Kids are naturally drawn to technology, and they're highly motivated by the idea of using an IWB. Research shows that kids learn best when lessons cater to a variety of learning styles. IWB lessons that get kids up and out of their seats appeal to kinesthetic learners. Emerging writers can turn their fingers into virtual pens and practice writing words in colors and patterns, or older students can draw arrows and label the parts of a chemical compound. With sound recording tools and imbedded sound-effect files, auditory learners benefit, too. But you don't have to choose one learning style over another; combine a variety into the same lesson. Kids can draw a queen bee, label the body parts, add animation and add a buzzing sound as their bee "flies" across the screen.
In the Spotlight
On a regular white board, you can write notes and draw diagrams to make your point. With your IWB, take it a step further with tools that help you hone in on important elements in your lesson. Shine the spotlight tool on a capital city on the map, slide the screen shade line-by-line to reveal text as you read, or highlight helping verbs with your finger. You can also create boxes that hide text and images to reveal later in your lesson. Sections of the board can be magnified to draw attention to specific elements of your lesson such as graphs, key words or images.
Enhancing Video
Take video clips that you're already using and let students use interactive whiteboard tools to solidify their learning. Pause a stop-motion video of a growing flower and label the parts of the flower as they emerge. Capture each page with labels to create a virtual or printed class book. Or pause a clip of the Nixon-Kennedy debate after a provocative sound bite from one of the candidates, and let students draw a thought bubble to illustrate what the other candidate might be thinking of his opponent's last comment. Check out Learn360, United Streaming and Teacher Tube for educational video clips that can enhance your lessons.
Cast a Web
Imbed Web links into your lessons to bring academic concepts to life. If you're teaching research skills, include a link to one of the online databases that kids will be using. If your students are learning about George Washington, link an image or block of text to an online virtual tour of Mount Vernon, Washington's home. Before introducing students to "The Diary of Anne Frank," link to a virtual tour of the home that was her hiding place during the time that she wrote her diary.
Distance Learning
With a wireless pad and pen, you can now control your interactive whiteboard from anywhere in the classroom, so there's no need to turn your back on the class as you teach. You can download an app like Tether to turn your iPad into a remote controller for your IWB. Students can draw or write on iPads with IWB tools using apps such as Ink2go or one from your IWB manufacturer. Let you students use these tools to demonstrate understanding of math problems, label parts of a simple machine or ask a question for you or their classmates to answer.
Random Generator
Mix things up with one of the many random generator tools on your IWB. Instead of always calling on students who raise their hands, make sure everyone has a voice. Enter students' names ahead of time in a random name generator, then choose students as their names come up. You can also use this tool to assign groups randomly for quick activities. Use two generators simultaneously to assign classroom jobs—one with students' names, and the other with job titles. Subject-area content can also be used to generate random numbers, words, musical notes, etc. Play "Whose Words?" when students touch the generator to reveal quotes from characters in fiction, or race to come up with as many ways to create a number sentence for a given number.
It's a Match
Easily create matching and sorting activities with words, images or both. Gauge students' background knowledge on a topic by letting them explore quotes from famous speeches and matching them to their sources. Check understanding during a lesson or a small group activity by having students sort prime and composite numbers into a T-chart. Gather formative assessment data by asking students to match the causes of the American Revolution with their immediate and long-term effects.
Cloning
Not only can students manipulate objects on the IWB, but the objects can be cloned to use again and again. Set up different shapes at the bottom of the screen that you can "infinitely clone," which will lock them into place so that they can't be moved. Students can then touch a shape and drag, which pulls the identical shape to another part of the board, while the original stays put for use elsewhere in the pattern. Turn this same concept into a bar graph or pictograph. Infinitely clone a circle, square or even individual headshots of the students and have them move one onto a graph to show a favorite activity, birthday month or results of a mock political election. For foreign language classes, set up and infinitely clone text boxes with definite articles and let students drag these next to the appropriate nouns.
Back to Class
Interactive whiteboard sites often post webinars or online self-paced training to help you get the most out of this new technology (check out the options at SMART and Promethean). Use your newfound knowledge to spread the wealth of knowledge in your school or district, and beyond.