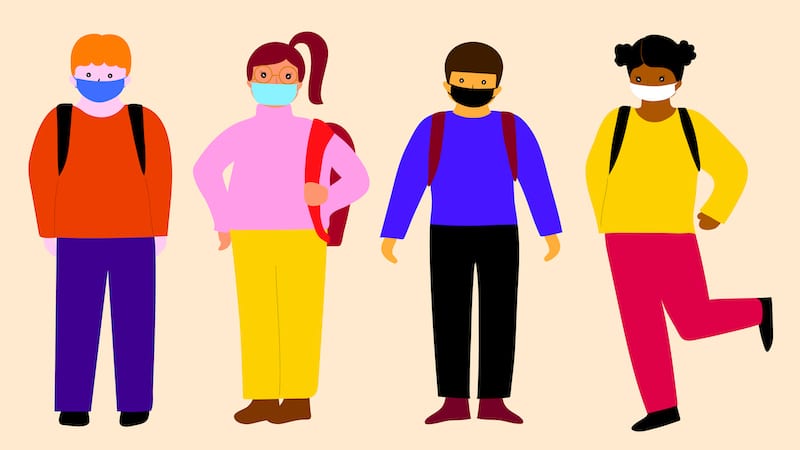 Obviously … this is a hot debate amongst our nation right now. It's quite polarizing to watch a slew of opinions thrown about. But, I want to put you in my head, first as a human being and second as an educator, as I ponder what a "normal" day of in-person learning would look like.
I walk into my classroom at 6:30 AM
Yes, 6:30 because that's what a vast majority of educators do … work off the clock, whether early in the morning or late after school. I put on a mask and shoot up a prayer that I'm protected from the 130+ students that have rotated through my classroom for the last several days. I grab a rag and wipe every surface … again … hoping that I can keep any virus or bacteria at bay. Most likely someone cleaned my room the night before, but I don't want to take that risk if it was missed.
I spend the next 45 minutes readying my class for the day. As a science teacher, I try to do the best to make my class as hands-on as possible … but I can't do that this year. The risk of cross-contamination between students requires me to redo a vast amount of my curriculum that I spent an hour working on after my daughter went to bed the night prior. Luckily, I was able to make this hands-on lab work … I'm thankful for this one day I'm able to give a somewhat normal day in science.
At 8:30, the bell rings.
I have 15 kids show up at my classroom. As they line up, 6'-ish apart, I remind one student that 6' apart means not standing next to their girlfriend. I look at another student and remind them that masks are mandatory regardless of how they feel about it. I let them in the classroom with the hope that today will go relatively smoothly.
As they enter, I tell them to wash their hands, reminding them that washing their hands isn't rinsing them with water, and they don't need 15 paper towels to dry them. They sit down and I go over the agenda for the day. I have three kids raise their hands and ask me to repeat what I'm saying. My mask makes it hard for them to understand. A five-minute introduction turns into 15. Well, there goes a quarter of my class period. I ponder the idea of purchasing a microphone, but my family just bought a house and I'm not sure if we can take the financial hit of buying one. The district doesn't have the funds either … in fact, their funds almost got cut 10%. So, it's either my expense or I go without.
I get the kids into the lab, having each student work individually.
I meander through the class trying to communicate from 6' away … it's not easy but I do my best. Some students complain about how hot they feel when they wear their masks and how it fogs up their glasses. I empathize with them, while also re-explaining why we have to wear them.
After the lab, I hurry to collect all the lab supplies and quickly spray them with isopropyl alcohol to sanitize them. It's not the best solution, but it's what my school budget could muster up. I have the students collect their lab reports in a plastic bin with a lid and set aside for several days before I entertain grading them. It's not ideal by any means, but it works.
I dismiss the kids back to my room, again reinforcing the concept of 6' distance is required between classmates, even if they are best friends "who spend almost every day together after school without a mask on." I grow tiresome … and it's only first period.
I have the kids pack up their belongings and I dismiss them to their next class.
In the three minutes of passing time, I frantically wipe down the desks in both the lab and classroom, chairs, and countertops. The bell rings, I'm not done sanitizing, so I rush through the last several desks and chairs. I hope it was enough. I wash my hands, go to the door, and welcome another set of students into my room.
Repeat for the next 5 periods. Hand washing, masks reminders, social distancing requirements, sanitizing, rushing, muted conversations. Over and over.
It's the end of the day. I'm absolutely exhausted. I wash my hands thoroughly. I leave my classroom. Before I get to my truck, I remove my mask … it has done its justice. As my 2-year-old daughter runs to my truck to welcome me home, I gently nudge her back to her mother and tell them to give me 10 minutes to go into my garage and strip my clothes. I wash my hands and arms for above and beyond the 30 seconds recommended. I've done my best to keep me and my family safe. I pray that it's enough.
But hey, at least it's "in-person."
Believe me, every teacher on the planet wants a normal school year. We miss our students more than anyone. But at this point in the game, with so much uncertainty, why are we being encouraged to put our health, our family's health, our colleagues' health, and our students' health at risk? We close down indoor restaurants and bars, but somehow we open schools? Doesn't that sound backward?
Beyond the apparent risk for exposure, it's going to be a logistical nightmare. What happens when students test positive? What about family members? Do we have enough masks? If I get exposed will I have a substitute to cover me for 2 weeks? What is that going to look like? Believe me, the questions are never-ending. In fact, they have evaded my summer "break." I spend my extra time researching how to protect myself, my family, my colleagues. and my students. I'm looking at what type of masks should I wear or what face shield would work the best. I'm reevaluating my curriculum to allow for social distancing. These questions permeate my daily life, invading the moments of "off-time".
I signed up to be an educator, but I didn't sign up for this.
What's your take on in-person versus virtual learning? Come and share in our WeAreTeachers HELPLINE group on Facebook.
Plus, I'm A Teacher and a Breast Cancer Survivor. Here's Why I'm Worried About the Fall.