By guest blogger, Joann Wasik from TheGateway.org.
Mobile tablets are one of the most innovative and versatile tech tools to come on the market in recent years, and their application to teaching and learning has made quick inroads in schools. It's been just over two years since the first generation of iPads became available to consumers, and an entire industry has developed around the technology – much of it focused on education. While still prohibitively expensive for many public schools, other schools have been quick to adopt iPads and integrate them into the curriculum. Aside from being light, portable, and snazzy, just what types of benefits do tablets offer over laptops, desktops, and e-books?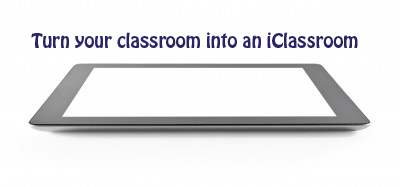 Plenty of benefits, as it turns out. iPads are much more intuitive to
use than conventional computers, making them ideal platforms for small children and students with special needs. The touchscreens make them much easier to share than workstations (no more grappling for the mouse), and their portability allows them to accompany kids outside, to other parts of the school, and on field trips. I read of one class that took iPads to gym class, recorded their active heart rates and activity levels, brought that data back to their classroom to compare with their resting heart rates, and then graphed the results. In this way, tablets can allow for a much richer, more personal experience for users over traditional computing platforms. Students can easily touch, move, share, interact with, and manipulate data in ways that were previously impossible, thus allowing them to engage with the content interactively. iPads also offer increased versatility over traditional textbooks and workstations through the number of educational apps available online. There are thousands of educational apps available, most for under $5, and many for .99 or for free. While the initial investment in the hardware can be pricy at roughly $500 and above per tablet, the apps are certainly budget-friendly and easily upgraded.
The ability to touch and move data (and really make things happen with a few flicks of a finger) isn't just fun and interactive for kids; it also seems to help them connect with the material on a fuller and more personalized level. Some recent studies on iPads in the classroom suggest that students become more active learners through using the tablets, and that they relate to the content more deeply. Every teacher's dream is to have invested students who are involved in their learning, and the use of iPads and other mobile devices just might be one powerful method of getting them there.
This week I've selected three resources for various grade levels that make good use of iPads. Please be sure to read my colleague Peggy's column (linked below) for her thoughts on using iPads in the classroom. .
Elementary iPad Integrated Lessons
Subjects: Language Arts, Math, Reading, Science, Social Studies
Grade: K-5
This packet provides a variety of lessons for grades K-5 in various subjects. All lessons require the use of iPads. The lessons include topics such as telling time, reading and writing practice, life science lessons, and more. I love the diversity of the lessons in this packet – there's a great range of lessons in many subject areas. This packet is available through Apptivities, a site created by a group of teachers during the 2010 Summer Institute at Full Sail University in Orlando, FL. The site offers lessons and activities from member teachers using mobile devices in the classroom.
Fractions and Percentages: Number Line Activity!
Subjects: Math
Grade: 5-6
Students will engage in a competition designed to get them thinking about and working with fractions and percentages. This is a fun, interactive activity that is sure to engage students (and a little friendly competition can work wonders as well!). This lesson was created by Josh Beck from KSAT iPad Curriculum, an organization at Kreuger Middle School (Texas) that offers lessons and support to teachers using iPads in the classroom.
Subjects: English
Grade: 9-12
In this "To Kill a Mockingbird" project idea that uses iPads, the importance of perspective is first introduced through Dorothea Lange's iconic Migrant Mother photograph and is reinforced through images of the Jim Crow era. As a final project, students are asked to personalize Atticus Finch's famous quotation about the importance of "walking in another's shoes." By shadowing an acquaintance for a two-hour period, using the pedometer and GPS features to track their physical movement and voice memos and notes to create an interactive diary, students will develop their own sense of empathy and reach a deeper understanding of Harper Lee's famous novel. This lesson is available through Apptivities, a site created by a group of teachers during the 2010 Summer Institute at Full Sail University in Orlando, FL. The site offers lessons and activities from member teachers using mobile devices in the classroom.
Resources mentioned in this post:
Peggy's companion column: