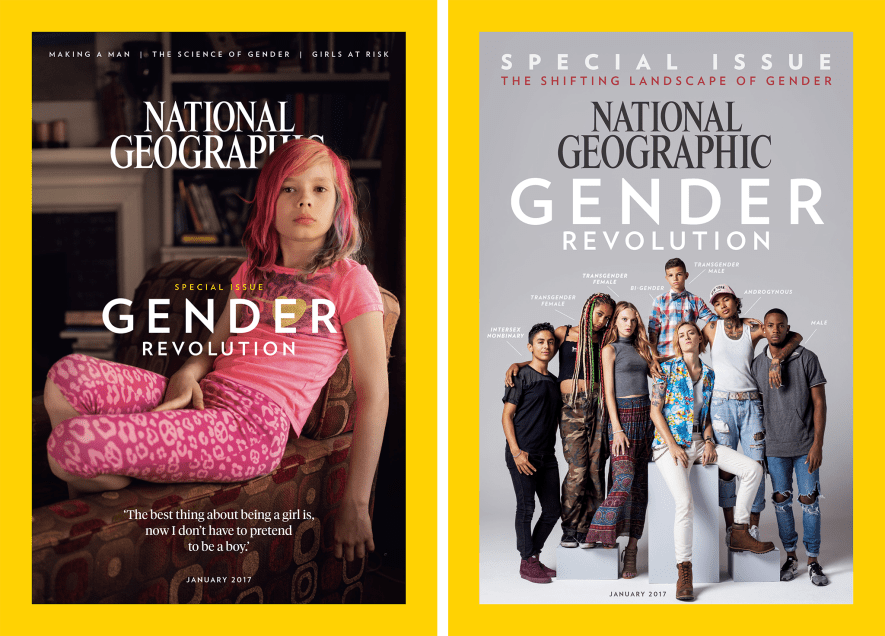 Transgender issues come with flashpoints that range from handling bathroom designations to recognizing how to address transitions and staying abreast of fast-moving legal precedents. We've gathered these handy resources to help you create a welcoming school climate for all students.
What Is It Like to Be a Transgender Student?
The 67-page report Harsh Realities from the Gay, Lesbian and Straight Education Network paints a bleak picture. "Most transgender youth attended schools with hostile school climates." Ninety percent of transgender students heard derogatory or negative remarks sometimes, often, or frequently in school, while 32 percent heard school staff make homophobic, sexist, or negative comments about someone's gender expression. This report is eight years old, but still seems to be the most comprehensive source for this information.
Supporting Transgender Students in K-12
The big question for administrators and teachers is how to best support students in school, especially as public policy and public opinion whipsaw from one extreme to the other. This 68-page report, Schools in Transition: A Guide for Supporting Transgender Students in K-12 Schools, from the ACLU, NEA, and other organizations is an excellent primer. It ranges from basics, such as explaining various terms, to how gender identity develops to guiding principles. The report discusses school officials' roles during both public and private transitions, goes into detail about record-keeping and reporting requirements, dress codes, and pronoun use. Schools in Transition also touches on the sensitive issues of overnight field trips, what happens when parents disagree with their child's choice, and the current legal landscape.
Gavin Grimm/Supreme Court Primer: What You Need to Know
Grimm is a transgender Virginia high school student who is suing to be able to use the bathroom of his choice. Grimm was born female, but identifies as male. The Supreme Court will hear his case starting in March. He's also part of the National Geographic documentary Gender Revolution: A Journey With Katie Couric. Actor Laverne Cox took up Grimm's cause during this week's Grammy telecast, telling the audience to "Please Google Gavin Grimm" and mentioning #StandWithGavin. 
Gender Revolution Documentary
This week, the two-hour National Geographic documentary Gender Revolution: A Journey With Katie Couric was made available to stream for free until February 21. The documentary, which originally aired Feb. 6, is available on National Geographic's website, its YouTube channel, its Facebook page, and other outlets. High schools and nonprofits can set up a free screening by filling out a request form online. Anyone hosting a screening will receive a DVD and an extensive discussion guide.
Trump Drops Defense of Obama Guidelines on Transgender Students
On the surface, this decision doesn't change anything. Underneath the surface, it speaks volumes. The quick background: The Obama administration claimed Title IX protected transgender students, including letting them choose which bathroom/locker room they used. A nationwide injunction halted the order. Trump's decision this week means that the Trump administration won't try to defend the Obama order in court.
Students' Rights
What rights do students have while at school? It's a fast-moving area, but this website from The National Center for Transgender Equality attempts to fill the gap. The above-mentioned Title IX defense is mentioned here, as is the Office of Civil Rights, which is under the federal Department of Education. There's no guarantee that either of these will still protect transgender students under Trump, but this site has a good set of resources and some information about how FERPA applies to transgender students.
Harvey Milk High School
Harvey Milk High School in New York City is the only school created specifically for LGBT students. This small public school operates within New York City's school system. The school is named for Milk, the first openly gay elected official in the country. Milk was born in New York and attended public schools, but moved to San Francisco, where he was elected to the city's Board of Supervisors. There's a Harvey Milk Civil Rights Academy elementary school in San Francisco. It lists its mission as empowering student learning by teaching tolerance and non-violence as well as celebrating diversity.
Join our Facebook group Principal Life for more conversation about and insights into the challenges of school leadership.