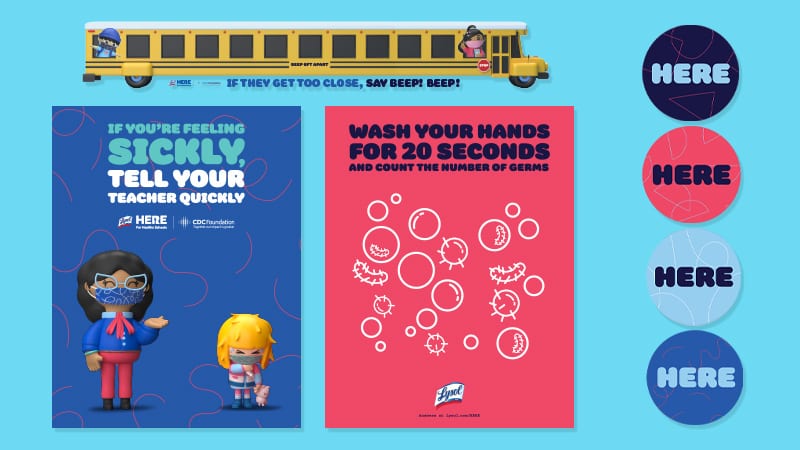 HERE for Healthy Schools by Lysol has a mission to educate about healthy habits to help kids miss less school—so they are able to learn, grow, and thrive. Check out their HERE for Healthy Schools Hub.
As many of us return to in-person instruction, we're having to navigate all kinds of new health protocols. That's why we love these resources. They make it easier to do everything from keeping kids apart to getting them to wash their hands for 20 seconds. Sign up now to get these healthy habits resources sent to you to use in your classroom and school. Check it out!
What's in the kit:
5 Educational CDC Posters (18″x24″) for handwashing, avoiding close contact, covering coughs and sneezes, staying home when sick, and wearing a mask (Qty: 25)
Hand Washing Activity Posters (8.5″x11″); 6 designs at different difficulty levels (Qty: 72)
Social Distancing Bus Signs (6′) (Qty: 6) (we know the CDC now says 3 feet is OK, but remember it's still 6 feet between adults and kids!)
Kit Brochures (Qty: 4)
Program Awareness Posters (Qty: 2)
When you sign up, you'll get as many kits as you want (up to 10) while supplies last. Just indicate how many you want in the form! And remember, if you run out of anything, you can always download and print more healthy habits resources from the HERE for Healthy Schools Hub .