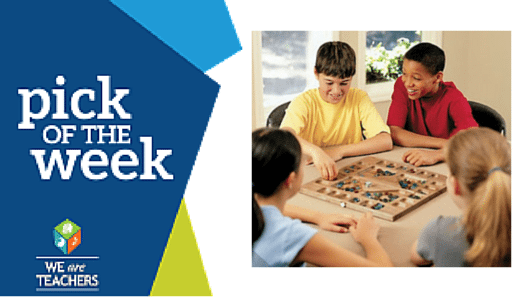 Turn that old mancala board up to four, and turn up the possibilities for strategic learning!
Why we love it: Mancala games help with mathematical thinking and calculation skills, as students count ahead to capture the maximum amount of stones, and strategize opponents' moves to prevent them from capturing their own stones. Basic calculation skills and forward thinking provide STEM building blocks for students. A four-player board not only increases the strategic thinking required of players, but it also increases classroom community … and fun!
History as well as math: We love the intercultural and historical possibilities for incorporating mancala in the classroom. Mancala games have been played since the sixth century AD, according to findings by archaeologists. The word mancala means "to move" in Arabic, and versions of the game are avidly played today throughout Africa, the Middle East, Europe and the Caribbean.
Benefits beyond: Recent studies by Swiss psychologists have linked the playing of mancala to enhanced memory and problem-solving abilities.The game, especially a four-player version, helps students learn patience, cooperation and healthy competition, encouraging growth in an array of social areas.
Find it: Mindware
What are YOUR students' favorite strategic learning games?