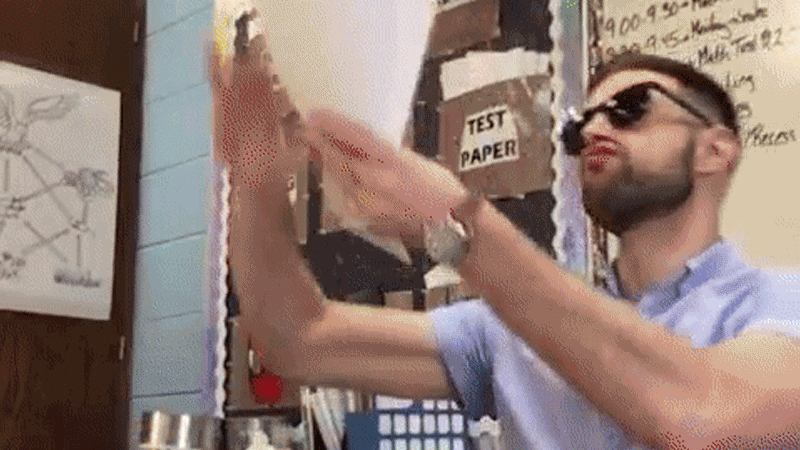 One of my goals as a teacher is to make school a place where kids want to be … not a place they have to be.
Some of you might recognize me as the teacher that did an April Fool's joke on my students when I gave them a fake spelling test. I love doing these kinds of things to keep them on their toes and make teaching and education fun.
Here are a few other things I do to get excited to teach. Are you ready for some teaching?! Let's go.

1. I drink a lot of coffee. 
Do I have a lot of energy? Yes. Is it natural? Some. Do I need an extra boost to prepare for 22 relentless nuggets of constant energy who walk through my doors each day? FOR SURE! Coffee. is. KEY! Personally, I drink a venti, black Pike Place. But you do what works for you. (Side note: I have a coffee pot on my desk at school). 

2. I listen to jams with my students. 
To me, music is essential. And let's be real, I'd die if I had to listen to Kids Bop all day. So, I don't! What I listen to, my students listen to. Sometimes they don't like what I play, and that's perfect because they're truly starting to fine tune their personal musical tastes. But at the end of the day, if you didn't learn all the lyrics to "Respect" by Aretha Franklin in the fourth grade … then what did you really learn?
Disclaimer: I do keep my musical choices for the classroom within reason. You're not going to walk in with "Milkshake" on full blast. Although that has been known to be my karaoke go-to.
3. I have weekly words of encouragement. 
Whether it's a quote of the day or a quote of the week, a quick bit of encouragement can really get you into a positive mindset before you take on the challenges of the teaching profession. I find a new quote every week and post it right at the entrance of my classroom for everyone to read as they walk in on Monday morning. They love it. I love it. We love it.
4. I get pumped up for teaching each week with podcasts. 
At least three times a week, I listen to educational podcasts on my drive into work. Not only does this help get me into the work mindset, it also helps me come up with new and innovative ideas for upcoming lessons and ways to amp up community building. Two of my favorites are Kids Deserve It and NPR Educate.
5. I have fun with my outfits. 
First things first … you might not want to flaunt your expensive looks in the classroom. I learned this the hard way when I dipped a Brooks Brothers rugby shirt sleeve into green cupcake frosting on my first day of student teaching. #teachablemoments
However, you can still amp up your looks for added student engagement. Whenever I shop for work clothes, I also keep an eye open for outlandish socks. Not only does this show off some personality, it also engages the kids. They come in every day looking forward to morning meeting so they can see how crazy my socks are. It's just another engagement tool to get the kids wanting to come to school. Try it!
6. I have a dance party before class.
I'd tell you more about this daily ritual. But I'd rather show you. Take a look for yourself here.
[embedyt] https://www.youtube.com/watch?v=RurC4rllWvk[/embedyt]
At the end of the day, be yourself and do what works for you. Kids can detect inauthentic attitudes the same way a dog can smell food. Whatever it is you're doing, give it 100 percent and do it for those kids. THEY NEED YOU!