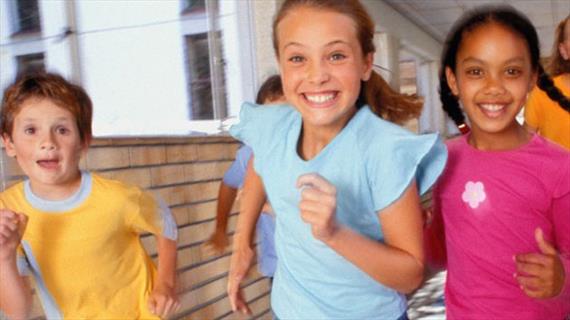 Bring your students outside to act out the rock cycle in an active game of Rock Tag! Rock Tag is like Freeze Tag except instead of freezing, students turn into a rock due to cooling, compaction, or heat and pressure. Students wear two-sided necklaces to indicate what stage or process they are. When they get tagged, they flip or change their necklaces to get ready for the next round!
ROUND ONE
Roles:
The majority of the students are Magma.
Four students are Cooling. They try to tag the Magma students.
Two students are Weathering and Erosion. They tag the students that have been tagged by Cooling and have turned into Igneous Rock.
Instruction:
If the Magma students get tagged by Cooling, they turn into Igneous Rock. They flip their necklaces and don't move. (They are rocks, after all!)
The Weathering and Erosion students run around and tag the Igneous Rock students and turn them into Sediments.
Sediments scatter (run) over by the teacher and change their necklaces. Then, they are free to run around until the next round as if they are pieces of rock being blown around.
ROUND TWO
Roles:
The majority of the students are Sediments.
Four students are Compaction. They try to tag the Sediments.
Two students are Heat and Pressure. They tag the students who have turned into Sedimentary Rocks.
One person is Melting.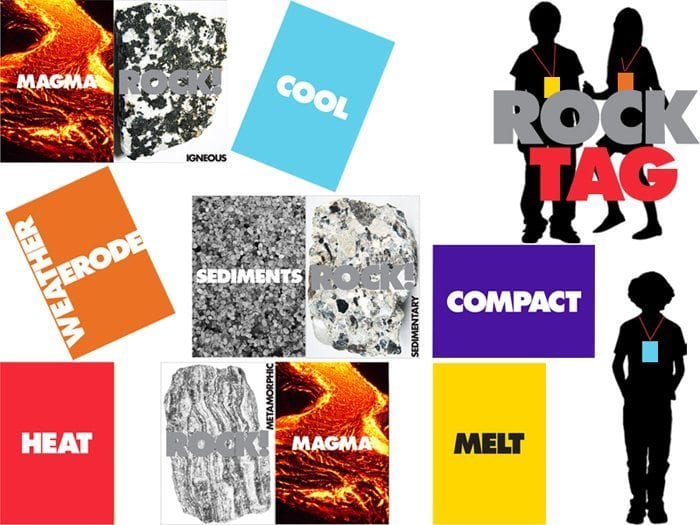 Instruction:
If the Sediments get tagged by Compaction, they turn into Sedimentary Rock. They flip their necklaces and don't move … they are rocks!
Once everyone is tagged, two children are Heat and Pressure. They go around and transform the Sedimentary Rocks into Metamorphic Rocks. Children don't move. Heat and Pressure students pass out necklaces when they tag their peers.
The teacher is Melting. He/she goes around and melts the rocks. The children turn into Magma and ooze over to line up (flip their necklaces).
After the game, have the students recall what processes occurred when they played. Many of the students started out as Magma and ended the game as Magma. They went through the entire rock cycle!
8 Necklaces
1. Magma on the front / Igneous on the back
2. Cool
3. Weather and Erode
4. Sediments on the front / Sedimentary on the back
5. Compact
6. Heat
7. Metamorphic on the front / Magma on the back
8. Melting
Once assembled, punch a hole at the top and string on yarn for students to wear the necklaces. PDF link to download: Rock Tag Necklaces
Erin Bittman is currently studying Early Childhood Education at the University of Cincinnati. In the fall, she will be a third grade student teacher. Check out her blog, E Is for Explore!