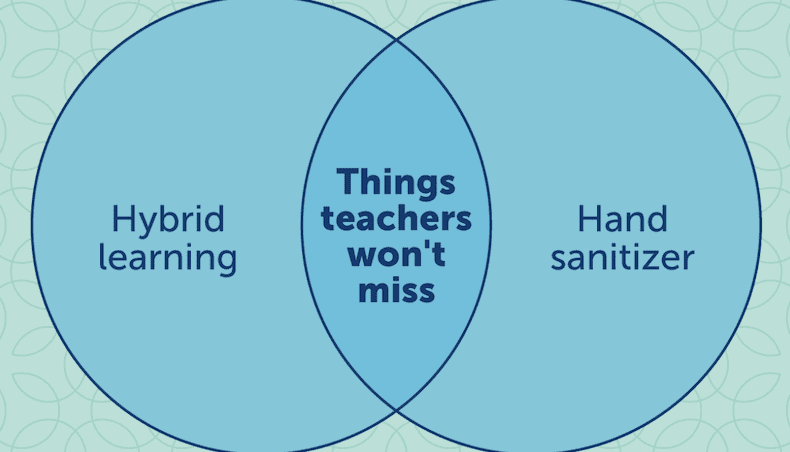 With everything going on, who doesn't need a mental break and a laugh?
After spending far too many hours scrolling through Twitter, we found and rounded up more than 20 hilarious tweets practically made just for teachers. Enjoy!
1. Lost in translation.
A little teacher humor to kick off your week. Have a great one!#MathHumor #TeacherHumor pic.twitter.com/Lpj65sQU6l

— Connected Math (CMP) (@connectedmath) April 5, 2021
This one is so relatable. There's what we said. Then there's what they heard!
2. "Hey, Siri!"
Told the kids Siri is my mom. Now instead of "hey Siri" they yell into their iPads "HEY MR.D'S MOM!" #teacherlife

— Joe Dombrowski (@MrDtimes3) April 6, 2021
Who needs Alexa when you have Mr.D?
3. English teachers, this one's for you!
#rhyme #teacherhumor pic.twitter.com/kYUFqg5rAI

— Rachel Turney (@RachelTurneystl) April 7, 2021
And you thought chaperoning the middle school dance was awkward!
4. Accurate.
Too good not to share! #teacherhumor #K12 #edchat https://t.co/OcJSiYuCb5

— WeAreTeachers (@WeAreTeachers) March 30, 2021
Yeah. These two have got to go.
5. April Fools'.
One of my students got me this April Fools' Day. He changed his Zoom name to "Brenda Simon" and turned his video off. When I asked the class if my camera wasn't working, he started his video, and we all had a good laugh! Of course, I then cold called him to cover the next case.

— Brenda Simon (@SimonBrenda) April 2, 2021
A+ for creativity!
6. Why does it have to be so complicated?
Yup. This is no easy task! 😆#membean #fridayfun #teacherhumor #teacherlife #2ndaryela #englishteacher #iteachmiddleschool #iteachhighschool pic.twitter.com/avvc5TwXcT

— Membean (@membean) March 26, 2021
It's an art and a science.
7. There's no tired like teacher tired!
#HappyFriday: Time to sit back, relax, and 😴 You deserve it!

via @teachergoals #meme #memes #memesdaily #teachermemes #teacherhumor pic.twitter.com/mYL54pWCev

— Alane Adams (@AlaneAdamsBooks) March 20, 2021
A teacher's Friday night.
8. Don't even think about it.
Or your favorite pens, right? Those Flair pens and Ink Joys are OFF LIMITS, am I right? ✍️#membean #fridayfun #teacherhumor #teacherlife #2ndaryela #englishteacher #iteachmiddleschool #iteachhighschool pic.twitter.com/OMXzoxK3BT

— Membean (@membean) March 19, 2021
Just because we teach our kids to share doesn't mean we have to. Right?!
9. What did you say?
How many music teachers can identify with this? 💥#teachers #musicteachers #teachermemes #teacherhumor via teachersthings pic.twitter.com/dcStV1ctP2

— SpreadMusicNow (@SpreadMusicNow) February 25, 2021
Only a teacher could tune that out!
10. Math humor is the best humor.
h/t @StMarkHarlem #welovemath pic.twitter.com/NJhlBGAads

— Partnership Schools (@PartnershipPost) February 23, 2021
Could she be any cuter?
11. This one speaks for itself.
#teacherhumor pic.twitter.com/9JvHGRAJEQ

— 💞Leigh Ragsdale💞 (@leighmragsdale) February 20, 2021
We feel seen.
12. So relatable.
The temperature seems like a makeup grade 0 to 70 real quick! 😂 #teacherhumor #iteach

— Alexis Miller (@3rdtimesachArM_) February 23, 2021
That was quick!
13. Are you ready to rumble?
🤣A little #teacherhumor to brighten the day. 😂 ⠀
⠀
Halfway there! Let's finish the next half of the #schoolyear with a bang! Stay blessed and #staysafeeveryone !😊👍⠀
⠀#fitnesshustletv #teachersofinstagram⠀#physicaleducation #peathome #teachermemes #schoolmemes pic.twitter.com/aMrOczIUuy

— Fitness Hustle TV (@fitnesshustletv) February 17, 2021
The 2020-2021 school year is the hardest battle we've fought.
14. Virtual classroom management?
*Student mutes you on Zoom* Best stories of having to manage classroom behavior over Zoom – go.#TeacherHumor #ebooks #digitaleducation #teachingduringcovid pic.twitter.com/muGblkXYqx

— EdTech Solutions (@EdTech_Software) February 12, 2021
Good luck with that.
15. Song of the year!
It's gonna be me! 🎶 @NSYNC @jtimberlake #teacherhumor pic.twitter.com/OulMhL0SFk

— Arianna Dicus, M.Ed.✏️ (@MsDicus) January 28, 2021
Best lyrics ever.
16. Better than a jeans day…
I often wonder what to wear for a @zoom_us meeting/conference as an educator. Like, is it okay to follow this guide:
Professional on the top 👩🏻‍🏫, party on the bottom 🥳#askingforafriend #teacherhumor #likeamulletbutnot pic.twitter.com/HWxNyR3J4S

— Lauren Rabourn (@laurenrabourn) January 18, 2021
We are loving the virtual teacher dress code.
17. You exist in real life?!?!
In a world, where your teacher lives not in your device. 🤔 #teacherhumor #theonion https://t.co/oE0rLcLsYQ

— Dana Heaton (@positive_arc) January 13, 2021
When our kids realize that we actually exist outside of Zoom!
18. The teacher juggle
This is my every Wednesday . . . #teacherlife https://t.co/yJKUd9r4V3

— Dan Leppold (@dolostone) April 7, 2021
This is me every day.
19. Copier, don't mess with me!
Just had a twenty minute battle with the copier…I won…but I have scars…the battle is truly never over…I know it waits my return… #teacher #copymachines #fifthgrade #teacherlife pic.twitter.com/p2ilDFaTDi

— Lori Cassner (@CassnerLori) April 7, 2021
The copier can make or break your school day.
20. Wouldn't that be amazing?!
Alexa, write my lesson plans. #tiredteacher #teachertwitter #teacherlife pic.twitter.com/ZlGrB02d6H

— Tracie Gerardi (@MsGTweetsStuff) April 6, 2021
Come on Amazon. Let's make this a thing.