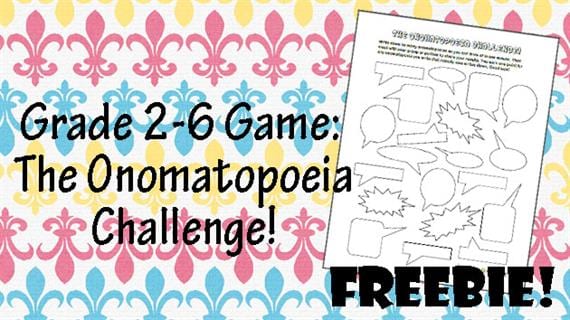 Whiz! Bang! Pop! Pow!
Hands down one of the most fun literary elements is the onomatopoeia. So why not embrace the opportunity to have tons of fun with your class? This week's printable is a game that will have your class smiling (and learning) in no time!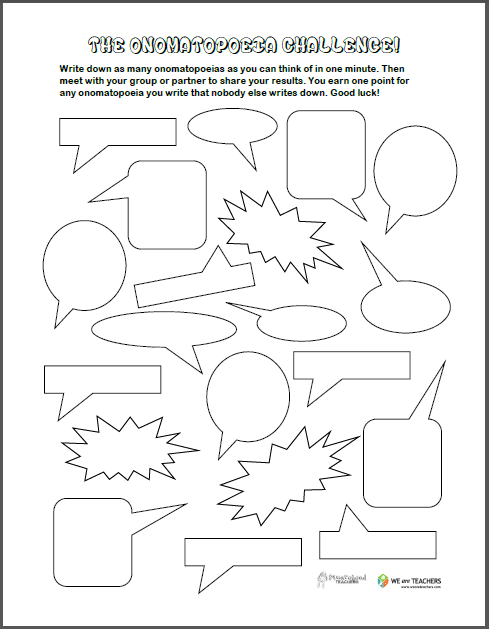 Here's how it works:
Print out one page for each student.
Choose whether you'd like to play as a whole class or in small groups. Either way is fine, but it's harder to get points the larger the group.
Set a timer. For older grades, think about setting it for 45 seconds – 1 minute. For younger grades, set it for a minute or two.
Once the timer's going, students should write down as many examples of onomatopoeia as possible. Write one example in each speech bubble.
When the timer goes off, take turns reading the examples you wrote down. If someone else got the same example as you, cross out the speech bubble (and earn no points). If you're the only one who wrote down that example, color in the speech bubble and earn one point.
The person with the most points wins!
Download the full sized version The Onomatopoeia Challenge [PDF]
Squarehead Teachers has taught a variety of grades ranging from kindergarten to higher education in the United States and abroad. She enjoys SCUBA diving, bright colors and cookies. She likes to share teaching ideas and free teacher materials on her blog, Squarehead Teachers.