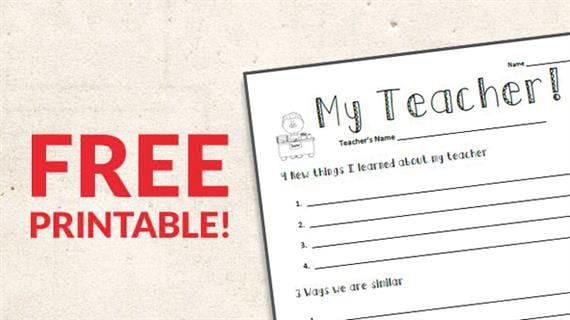 I remember when I was a fifth grader wondering about who I'd get as my sixth-grade teacher. There was one teacher I didn't know very well and had never talked to, so I was really hoping I wouldn't be in her class. When I was assigned to her class, I freaked out (as preteens are prone to do). My wise mother told me I'd be fine and that once I got to know her, I would like her.
And it was true.
Once I got to know my new teacher, I loved being in her class. Once I saw she was a real person, all the anxiety went away.
My experience so many years ago reinforces the importance of helping your students get to know you. There are tons of ways to do this. Some people bring in things that represent them. Others bring photos or make some sort of visual. And the list goes on.
Get to Know My Teacher Worksheet
This week's free printable will help your kids pay attention to you when you're introducing yourself, encourage them to make connections with you and also provide them an opportunity to ask you questions. Simply hand it out before you start your "about me" gig and start introducing yourself.
Download the full-size printable: Get to Know Your Teacher [PDF]