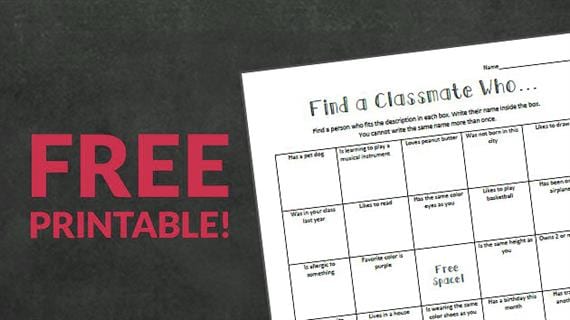 Every class is full of kids who are totally different and come to school with completely different life experiences, preferences, habits and family backgrounds. While it can be sometimes hard to address this, it can also be a huge strength. No matter who's in your class, every child can find something in common with each of their classmates.
Find a Classmate Who … Icebreaker Activity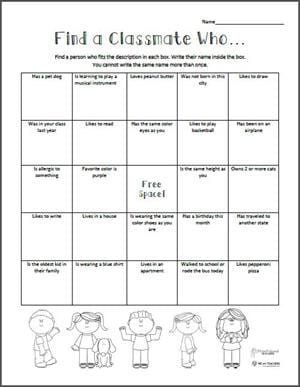 Finding these similarities and learning more about each student is the precise goal of this back-to-school icebreaker activity. It's pretty simple too (can you tell I like simple?!).
Set the timer (maybe 10 minutes) and hand each student a copy of this page. Then ask each student to find one person for each characteristic listed on the page. Once students have identified a person with a listed characteristic, students should write their classmate's name on the page. This way, they're learning something about each person. (Make sure kids don't just hand someone their paper and say "write your name in one of these boxes." That cuts out so much of the valuable get-to-know-you part of this activity.) As a review, maybe go through each characteristic and ask everyone who fits the characteristic to raise their hand. This way, you as the teacher can get to know your students better as well.
Good luck with the new school year!
Download the full-size printable: Find a Classmate Who [PDF]