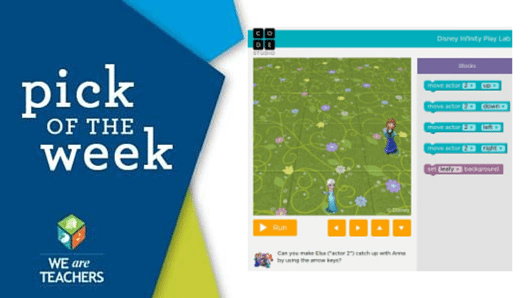 Free coding programs for students in grades K-8, using beloved characters? No wonder more than 5 million students have enrolled in Code Studio's groundbreaking online computer-programming labs. Their latest offering utilizes familiar Disney avatars and is our Pick of the Week.
Disney Infinity Play Lab from Code.org
Why we love it: Elsa, Anna, Baymax, Hiro and Rapunzel all get in on the coding act as students work through increasingly complex puzzles. This accessible method walks students through the assigning of actions to certain button presses, the creation of logic loops and simple WHEN statements. By dragging and dropping codes into the interface, students can bring the characters to life. By the final level, students will be able to utilize all of the commands they have learned to program the characters on their own.
Course options: The diversity and progression of coding courses makes this program a great option for grades K-8 and students of various coding experience. Course 1 is designed for early readers with no coding experience, Course 2 for elementary readers with no coding experience, Course 3 for students in grades four and five who have taken Course 2, and Course 4 is for students who have completed Courses 2 and 3 up to grade eight. Course 4 is still in beta, so your educator feedback is much appreciated by the developers still perfecting it.
Dazzling dashboard: We at WeAreTeachers have seen hundreds (thousands?) of teacher dashboards, but the Code.org teacher portal is truly phenomenal. This free software allows you to add your students and track their progress. You can also create groups by coding ability. The lesson plans and printable worksheets supplement and reinforce students' online learning. There is also a 20-hour intro to computer science that is designed for all ages but is incredible for those language arts–minded people who have yet to conquer CS.
Find it: Code.org
Have you introduced coding to your students? Share your recommendations below!