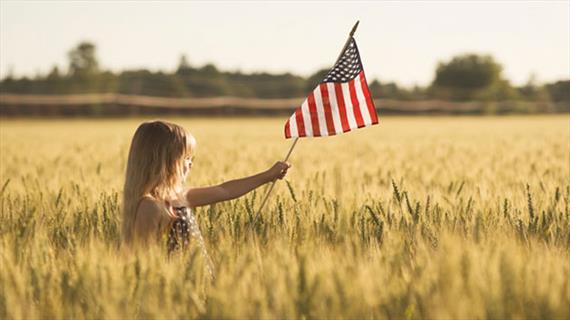 Ahh, the Fourth of July. Cookouts, baseball games, fireworks…and reading? While it may not be your typical holiday activity, we guarantee you'll want to curl up in a hammock with one of these fascinating reads about our country. Don't forget the lemonade!

1. Red, White and Boom!
Written by Lee Wardlaw, illustrated by Huy Von Lee. $16.99.
This rhyming charmer takes little ones across the country on a tour of various Independence Day celebrations. Your students will notice how festivities differ in different places, but also how the spirit behind them is the same. Best for grades PreK–2.
Activity to try: Have students write one sentence on red or blue notecards about how they plan to spend the Fourth of July. Then attach the notecards to white paper plates splattered with red and blue glitter paint to resemble fireworks.

2. National Parks: A Kid's Guide to America's Parks, Monuments and Landmarks
Written by Erin McHugh, illustrated by Neal Aspinall. $19.95.
America's parks are its treasures, and this guidebook will help students discover cool facts about 75 special locations around the country, including Yellowstone, Ellis Island and more. The best part? While it's a nice road trip read, kids will still learn a lot even if they don't leave their couches. Best for grades 3–6.
Activity to try: Invite students to choose one of the destinations in the book and create a three-panel brochure for it. They should do research online to uncover additional facts about their chosen hot spots.

3. United States: The People
Written by Martha Morss. $8.95.
The Fourth of July is a great time to talk about all of the cultural contributions and achievements immigrants from other countries have brought to the United States. This colorful introduction from Bobbie Kalman's nonfiction geography series will help to spark the discussion. Best for grades 4–6.
Activity to try: Send students home with two or three white paper stars. Ask children to interview their families about their countries of origin or their ancestors'. Kids should write the names of these countries on the stars. Together, create a representation of the U.S. flag using the family stars.

4. The Big Book of American Trivia
Written by J. Stephen Lang. $14.99.
A fun resource for your social studies or history classroom, this weighty compendium features more than 3,000 questions and answers about U.S. history, from the origins of "The Star-Spangled Banner" to lesser-known facts about presidents and historical figures. Best for grades 7–12.
Activity to try: Host a trivia showdown! To review for an exam on the Civil War on the 1960s, for example, divide students into teams and ask only questions from the book related to that era. The first team to buzz in and answer correctly gets a point, and the first team to ten points earns a special reward.
Question for you: What are your plans for the 4th of July? Will you barbecue, head to the beach…or cozy up with a good book?