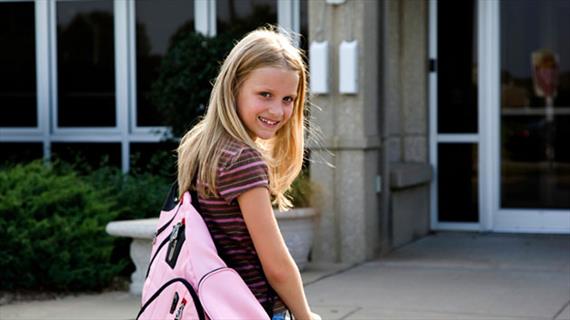 Have you chosen the first book you are going to share with your class this year? Some teachers like to share the same classics year after year (such as Kevin Henkes' "Chrysanthemum" or "First Day Jitters" by Julie Dannenberg). Others like to use the first day of school to read a book that's brand new to everyone. If you're part of that latter group, here are five recent favorites that will help start your year off right.

1. Mom, It's My First Day of Kindergarten
Written and illustrated by Hyewon Yum. $16.99.
In this twist on the classic back-to-school tale, it's Mom who's worried about what the first day will bring, not the kindergartener in question. Of course, the little boy must reassure his mother that everything will be okay and that the new transition will bring friendship and learning. Best for grades PreK–1.

Activity to try: Have your little ones write or illustrate letters home to their parents explaining why it's okay that they are in school. Encourage students to add details about their favorite activities so far.

2. Because You Are My Teacher
Written by Sherry North, illustrated by Marcellus Hall. $16.95.
Show your students how much you want them to grow and what you are willing to do for them by reading this tale about a teacher who wishes she could take her students around the world, all in the name of learning. If you will be studying any of the sites mentioned in the story, share that with students to drum up excitement. Best for grades K–2.
Activity to try: As a class, study a world map and talk about the places students would like to know more about. List the locales on a chart and use it as a research starter or inspiration for choosing reading.

3. The Classroom: The Epic Documentary of a Not-Yet Epic Kid
Written by Robin Mellom, illustrated by Stephen Gilpin. $12.99.
"Mockumentaries" have been a television mainstay over the past decade, and now they enter middle-grade fiction with this clever profile of seventh-grader Trevor Jones, who would prefer to blend into the background but is forced into the spotlight thanks to a film crew and a challenge from his best friend Libby. Best for grades 3–7.
Activity to try: Invite students to make documentaries about their own lives. Partners can take turns filming and interviewing one another, and then you can have a "film festival" in which you show the finished work.

4. Charlie Joe Jackson's Guide to Extra Credit
Written by Tommy Greenwald, illustrated by J.P. Coovert. $14.99.
We adored "Charlie Joe Jackson's Guide to Not Reading" for its fresh and honest portrayal of a reluctant reader, so we were delighted to dive into the funny sequel, in which Charlie schemes to get extra credit so that he doesn't have to attend summer school. Best for grades 3–7.
Activity to try: Use the story to have an open discussion about extra credit with your own students. What is your policy? Do students think it is fair? Why or why not? Ask students to contribute suggestions for how they think extra credit should work in your classroom.

5. Eighth Grade Is Making Me Sick
Written by Jennifer L. Holm, illustrated by Elicia Castaldi. $15.99.
In this follow-up to "Middle School Is Worse Than Meatloaf," Ginny Davis must survive eighth grade despite big changes at home and shifts in friendship. Tween readers will love that that, like its predecessor, Ginny's story is "told in stuff"—Post-its, IM conversations, notes and report cards. Best for grades 5–8.
Activity to try: Have kids tell their own "stories in stuff." Invite them to bring in 5–10 objects from home that represent their personalities, likes or dislikes and then present them to the class so that everyone can get to know one another better.
Question for you: So, will you be reading one of the books above on the first day? Or another selection? Please share below!