Five simple guidelines for choosing Nonfiction classroom texts.
By Hannah Hudson
By now, you probably know that the Common Core State Standards place a big emphasis on kids reading informational text. In fact, the requirements are clear: According to the standards' key design considerations, by 2014, 50 percent of what fourth graders read—and 70 percent of high school seniors' reading material—should be high-quality nonfiction.
What's not so clear for many teachers is how to rebalance curriculums and classroom libraries that once favored stories, poems and drama to include nonfiction books that kids want to read, regardless of the new requirements. We've seen kids fall in love with Because of Winn-Dixie, Holes and To Kill a Mockingbird—what are their nonfiction counterparts?
Erin Ryan, a fifth-grade teacher in Deerfield Beach, Florida, knows that she's hit the right note when nonfiction stories "promote engaging conversations among my students." Indeed, that's what we all want—kids talking and sharing about great books. With that in mind, here are some guidelines for finding nonfiction texts that your students won't be able to put down:
Choose High Interest Topics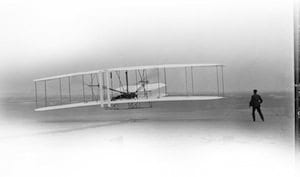 Courtesy of Junior Great Books ThinkIt
What are your students talking about on the playground? What grabs their attention in the news and in your discussions? Use children's natural curiosity as a guide for selecting nonfiction for your classroom. For Ryan, it's important to find material on topics her students already know, but which presents new and interesting details about the subject. For example, she used the Junior Great Books ThinkIt program to extend students' knowledge on the Wright brothers. "Talking about the Wright brothers is a fantastic way to get kids into reading nonfiction because it's a story that they already know," she says. "The beauty is that they don't know the details of the [Wrights'] early life."
Look for Openings for Discussion
Great nonfiction gets kids asking questions—and lots of them. While previewing a text, think of potential discussion topics and questions kids might have, as well as ways the text might lend itself to teaching Common Core benchmarks. For example, does the text introduce new vocabulary related to the topic at hand? Are there relationships between ideas, events and individuals to explore? "With standardized testing a major part in the lives of everyone connected to education, it's essential to find [texts] that students find as exciting to work on as teachers find validity in the exercises," says Ryan.
Connect It to Kids' Lives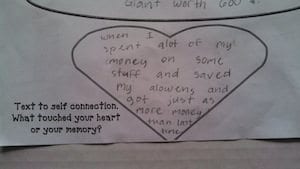 One second grader's text-to-self connection
Kids like to read about real people facing challenges they can relate to in their own lives. But that doesn't mean they can't understand the trials of George Washington during the Revolutionary War, for example. While they may never have been president, kids do know what it's like to lead a group of people, even if it's only on the playground. Look for nonfiction that presents history and other subjects in relatable ways. The goal, says Ryan, is to find opportunities "to discuss qualities in real people, faced with real situations that weren't always easy to overcome."
Opt for High-Impact Visuals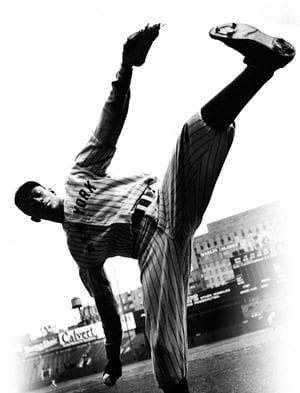 Courtesy of Junior Great Books ThinkIt
When it comes to nonfiction, striking visuals can mean the difference between a text that falls flat and one that grabs students' attention from the get go. Photographs in particular can help illuminate a given topic. "The pictures make the story even more real," explains one of Ryan's students. Callouts, captions and timelines are other visual elements that can draw in struggling and above-level readers alike.

Think About What Comes Next
As you're evaluating a nonfiction text, ask yourself what connections the material evokes. Are there topics or ideas that students will want to research further? Prompts that you can use for reflection or writing assignments? Ties between the text and other material you've read as a class? (We love these printables from the Create Teach Share blog for organizing students' thinking.) The best nonfiction encourages students to make these connections, dig deeper into the topic at hand and use it as a springboard to explore the larger world.