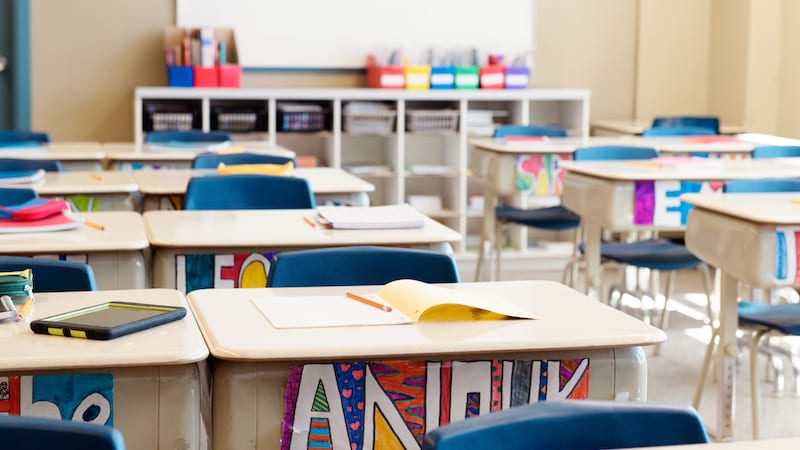 Rumors are swirling about what a potential return to school might look like. Since teachers are on the frontlines in terms of the impact of these decisions, we turned to them to answer the question: "What will it take to make you feel safe again?" Teachers represent a huge and diverse group, so it's no surprise their answers ranged from ready to go back without any additional precautions to wanting to wait for a vaccine.
Let's talk about attendance
The COVID-19 pandemic has renewed concerns among teachers that schools place too much emphasis on attendance. Many are calling into question policies that encourage both kids and staff to come to school when they aren't feeling well.
"I want the pressure for perfect attendance to STOP." —Cate
"The elimination of any program that praises or rewards kids for coming to school sick." —Debbie
"I think very strict guidelines are going to have to be put in place for sending students home with just about any sign of illness, cough, especially." —Melanie
"A district-wide policy that sends sick kids home and a sick leave policy that understands we can no longer work when it's 'just a cold.'" —Cheryl
With precautions in place
Other teachers are ready to go back if their schools establish certain protocols. Just like in other public places, they want social distancing and other protective measures in classrooms.
"Masks, daily cleaning (sanitizing rooms), and hand sanitizer." —Jonathan
"Temp checks and regular testing of students and staff." —Marie-Eve
"A plexiglass shield/divider between desks when you need to work 1:1 with a student. (RTI, OT, SLP, etc)" —Victoria
"Cleaning supplies, masks, and shields we don't have to pay out of pocket for." —Tisa
"PPE for everyone, proper ventilation in classrooms and the school, daily mandated cleaning procedures, classroom furniture that allows for social distancing within the room." —Jacqueline
With some creativity
Leave it to teachers to come up with ways to make school work in our new reality. In fact, many are looking at this as an opportunity to turn traditional schooling on its head.
"An alternating live student schedule that allows for a reduction of class size by 50 percent with supplemental distance learning on alternate days." —Priscilla
"Take it all outdoors! Classes meet every other day in playgrounds, parks and play lots. Learning in the lower grades is games, singing, free play, read alouds, storytelling, plays, and nature-based math activities. Upper grades read, debate, discuss, play, create, etc." —Anne Marie
"Less testing and more play and relax time, more crafts and practical learning. More small group time, smaller classes, and teachers having aides that are always around and able to help." –Amanda
Ready to go now
Many teachers are anxious to get back into their classrooms and be with their students. Especially in areas that haven't been as affected by the pandemic, some are ready to return as soon as possible.
"I feel safe now. I want to go back." —Laura
"Opening the door." —Lori
"Nothing. I would go back tomorrow if I could." —Faith
"I am not afraid of returning to school. Give me my kids and let me do my magic. We will follow protocol as in the past, cover your mouths, wash your hands, use sanitizer, etc. Common sense rules." —Jennifer
Not without a more permanent solution
Over and over, we saw teachers say that only a vaccine would make them feel safe to return to school. Requiring the vaccine was the subject of much debate.
"A vaccine. Or a scientific consensus on how to keep schools safe until a vaccine is made." —Christopher
"I need to know if I have the antibodies, as well as my child and husband, until there is a reliable and safe vaccine." —Lisa
"Universal testing and tracing for all teachers, students, and staff." —Dave
"COVID-19 treatment, vaccine, or a cure." —Lori
"Confirmation of vaccinated kids, teachers, staff, and parents." —Aileen
Concerns of at-risk populations
For those over fifty, those caring for elderly family members, the immunocompromised, expectant mothers, and parents of young children, the prospect of a return to school brings up all kinds of concerns.
"A way to effectively teach 150+ students without compromising my personal health. I want to live to see my grandchildren who haven't even been born yet!!" —Sandra
"I don't know if I'll ever feel safe at school. I'm worried about bringing home all sorts of sickness to my infant." —Sara
"If you are over 60 or caring for an elderly loved one, you never feel safe." —Judy
"Being over 60 and asthmatic I would be nervous about going back. I would love to be able to do remote learning until a vaccine is available. Either that or I would like for the state to consider early retirement with full benefits to protect teachers who are at risk." —Jan
"I have upper respiratory problems and my husband is immunocompromised. I need the curve to be done, not flattening or in the process of it." —Rose
What will it take to make you feel safe again? Share in our WeAreTeachers HELPLINE group on Facebook.
Plus, A Look at How Denmark is Reopening School