Guest Post by PeggyJames at TheGateway.org
As each school year comes to an end, teachers around the world look back and wonder, "What did my students really
learn this year? Did I cover all the topics I needed to cover? How much do my students understand?" If we are doing our job right, students should come away from the year knowing a lot more than when they started, and they should be excited for their next year of learning. In the moment, the students and teachers are probably slightly more excited for summer break, but hopefully the excitement for learning will come.
Surely students have learned new facts during the year and understand plenty of new concepts, but did they take that learning any further? Were they applying, analyzing, evaluating, or creating, or were they mainly challenging their memory and recall skills? So often our focus is on teaching students to remember facts and understand important concepts for tests, we forget the goal of preparing students to use their knowledge in life.
Looking at the graphic of Bloom's Taxonomy (below) this week reminded me that understanding and remembering are only a tiny part of the learning process. A motivated teacher will strive to encourage students to engage in higher order thinking (the higher levels on Bloom's Taxonomy) as much as possible. A motivated teacher who doesn't have a lot of free time (could that be you?) should turn to the Gateway for good, free activities to help make higher order thinking a part of every day. This week, we are featuring engineering resources that will challenge your students to apply their knowledge in new and exciting ways. These are great examples of fun, hands-on activities to help students develop their higher order thinking and problem solving skills.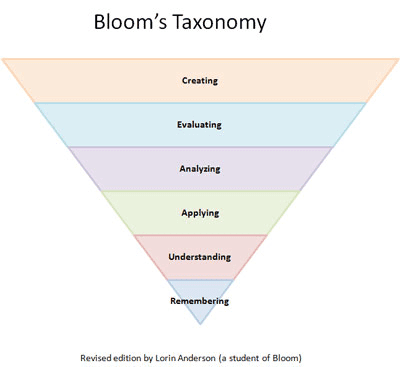 Some teachers will read the word "engineering" and stop reading this post. It sounds like a complicated topic, but it's really all about giving your students the chance to create something unique. Problem based learning activities often promote the exploration of engineering and are a good introduction to engineering for teachers who might be a bit leery about the subject. For some good PBL activities, read our posts here and here. This New York Times article will show you just how "elementary" engineering can be! I love the idea of kindergarteners reading the Three Little Pigs and imagining, designing, and testing wolf-proof houses.
The following few activities are some examples of engineering activities on the Gateway that may seem more like playtime to your students, even though they are learning a lot. This sneaky "learning through play" is perfect for the antsy time at the end of the school year, during summer school, and as you are getting into the swing of the new school year. If you search for yourself, you can narrow the resources down to exactly what you need.
If you want to get your class excited about engineering with a fun, easy project, try Design and Engineering, an activity where students work in teams to plan, design, and build aluminum boats that will carry the most cargo. The competitive nature of the activity keeps it exciting for students, and they learn a lot about the science and construction of boats. They also learn about the process of engineering.
Another activity created as part of the Odyssey of the Mind program allows students to design and experiment with toy vehicles they bring from home. They will explore velocity, angles, and energy while they try to figure out how different vehicles are able to jump big gaps. The activity, Up to Speed, is nice because it allows students to see how they can experiment and create with things they want to play with anyway.
Nano Waterproofing takes a more preparation and materials than my other two examples, but I think students will really enjoy the activity and feel like they are doing some true engineering as they try to create their own waterproof fabric. Look into this resource if you are trying to find a way to inspire students to become engineers and to explore new technology like nanotechnology.
My final example, Engineering Careers from Engineer Your Life, is completely different. It is a great resource for high school girls to find out more information about becoming engineers. They also have a guide to engineering careers for middle school girls. Since the rate of girls becoming engineers is so low, I thought it was a good one to highlight as well. If you have girls who seem to be interested in this type of career, it would be a nice link to share with them.
You probably have some future engineers in your class, and with the right direction, there might be even more. I hope you find some resources to use for the end of this year, during the summer and into the next year. If you have a hands-on engineering resource that you love, please let us know!
Joann's companion column: