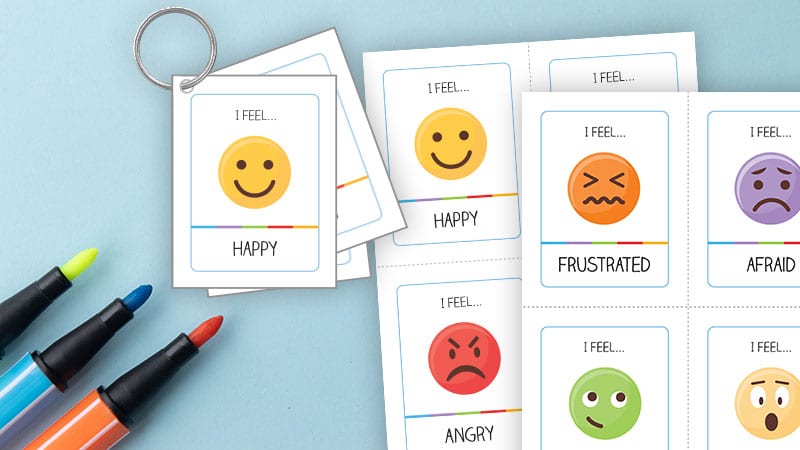 Looking for ideas to teach kids about managing emotions and moods? Sanford fit has hundreds of free resources—like brain breaks, lessons, and videos—to help kids make healthy choices. Learn more>>
This is going to be a challenging back-to-school season. One of the biggest concerns teachers and families are talking about is how to help kids share emotions when we're online, physically distanced, or while wearing masks. It's going to feel strange to everyone, but we can't let that stop us. Understanding, managing, and sharing emotions is a big part of the social and emotional learning work done in grades K through 8. That's why we worked together with Sanford fit to create these free emoji mood cards designed for helping kids manage their emotions. We've also curated a list of Social and Emotional Learning (SEL) ideas that you can practice with your kids and students to get this important work accomplished from day one.
SEL idea #1: Ask check-in questions
At the start of every day (or class), ask check-in questions that come at kids' emotions from different angles. Ideas include:
What would your best friend say is your best quality?
What made you laugh yesterday?
When you are feeling lonely, what makes you feel better?
What is something kind you could tell yourself right now?
SEL idea #2: Use students' names as much as possible
Say your students' names as much as possible, especially during online meetings. Hearing their name helps students feel better connected to you.
SEL idea #3: Get moving together to connect
Look for videos you can show to your students no matter the learning environment. This way everyone can get up and move around. Movement reduces tension and helps everyone feel more comfortable together. This fun Sanford fit video turns simple activities you do at home and in the classroom into pantomimes that get everyone moving.
SEL idea #4: Share your favorite places
Use Zoom or other conferencing app backgrounds to help kids learn more about you. If you are in the classroom, bring in pictures or slideshows and share them with your students. This gets kids excited about logging in every day and seeing your location or virtual background. If you are recording your distance learning videos in your classroom, show a different place in the room each day.
SEL idea #5: Use emoji mood cards to help kids share how they feel because …
Feelings don't have to last all day.
Have kids grab their cards when class time starts and flip to the way they feel. Talk about how feelings change throughout the day. So if you enter the classroom frustrated, you don't have to stay that way.
Understanding our emotions helps us get our work done.
Our emotions can certainly get in the way of our work. Have students keep their emoji mood cards at their desk as they work independently, so they can let you know how they're doing. If they are feeling confident about their progress on a given task and don't have any questions, have students display a "happy" emoji card. If they're feeling frustrated or have questions, have students display a "frustrated" emoji card. Before turning in their work, have students draw an emoji face on their work that represents how they felt while completing the assignment.
Keeping track of our changing emotions helps us learn about ourselves.
Emoji mood cards can also be used throughout the day to help students track their mood changes. At regular times during the day invite students to update their emoji mood card status. Emphasize how dynamic our emotions are and ask students to reflect on how their feelings changed over the course of a day.
Consider trying out the lessons that go with this unit: Helping Kids Manage Feelings and Emotions to build a solid foundation of social and emotional learning for your students this year.