This week the WeAreTeachers team is hanging out in Austin, Texas, soaking in the amazing speakers and learning opportunities at SXSWedu. And we're superpumped for our own EduBrawl panel, taking place on Tuesday, March 5th at 9:00 am. If you're at SXSWedu, we hope you'll join us—a terrific lineup of educators will be talking about new WeAreTeachers Research on how technology has changed the classroom experience. Check out the infographic below to discover some of the key points we'll be discussing.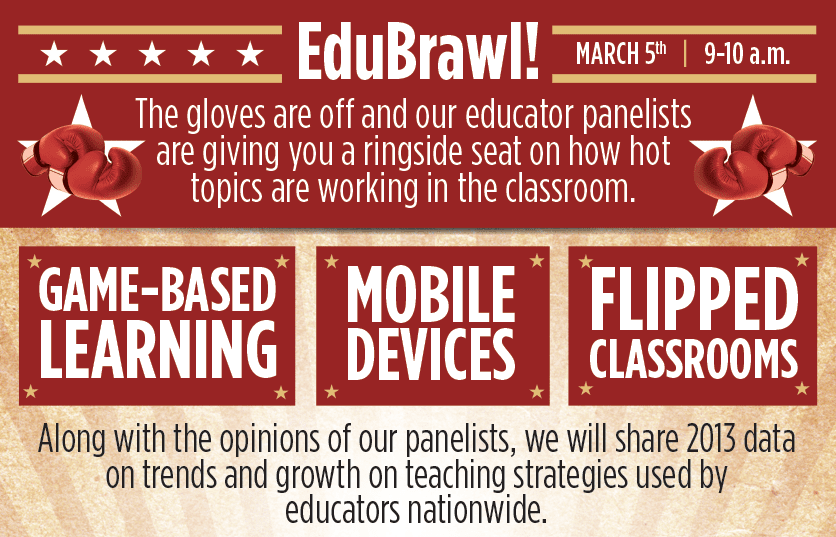 Here's a little bit more about our EduBrawl panel:
Our panelists range from top ed-tech leaders such as Sandy Kendell (@edTechSandyK) and Dr. Wes Fryer (@wfryer) to technology newbies like second-year high school teacher Kathren Hill and veteran educator Glen Schuknecht.
During the session, these educators will discuss their varying viewpoints on a 2013 WeAreTeachers "Teachers' Voice" research study about mobile learning, game-based learning, flipped classrooms and new educational technology.
To learn more about this research study, see the infographic poster below and come back to http:/www.weareteachers/tech for the #EduBrawl panelist responses and a link to the press release with all of the findings.
Making Your Voice Heard
And here's our second piece of cool news: At SXSWedu, WeAreTeachers will be launching a new "Teachers' Voice" initiative. Forget about lawmakers and outsiders—we want to hear what you really think about the latest trends and hot topics in education. The "Teachers' Voice" initiative will consist of regular research studies to get at the heart of your opinions, joys and struggles. Our goal is to take a realistic and timely pulse of educator viewpoints and to record their innovative responses to new opportunities and challenges.
Ed Tech Trends: What Teachers Really Think
In our kick-off study for the "Teachers' Voice" initiative, we asked classroom teachers about the latest ed tech trends, from mobile learning to the flipped classroom:
Our research indicates that access to technology is the biggest hindrance to integrating these new ideas.
The majority of teachers surveyed had access to computers, laptops and interactive whiteboards, but most agree that students do not have sufficient access to the mobile devices necessary to make a mobile learning/flipped classroom work.
More than three out of four teachers (78%) do not have access to eReaders, 59% do not have tablets and 55% do not have handheld response devices.
Only a small percentage of the teachers we surveyed had flipped their classroom. Most feel that educators are on the very cusp of learning how teaching and students benefit from this method.
In order for more teachers to buy into the flipped classroom method, more than 93% of our educators felt like their biggest obstacle was their ability to create or find audio and video files.
The 7% of teachers who said they were proficient at this, said that their favorite tools include Edmodo, LearnZillion, YouTube, TeacherTube , Khan Academy, Moodle, Ning, Scootpad, Explain Everything, WordPress, ShowMe and Educreation.
Here's more information about the ins and outs of this study: