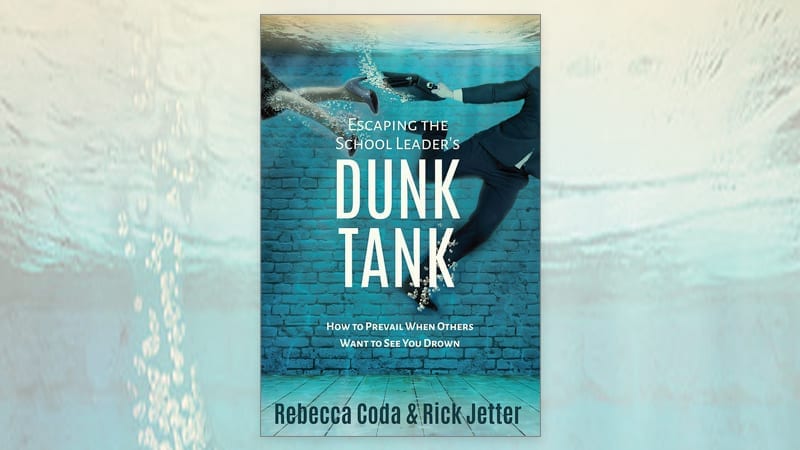 School Leaders Now contributors Rebecca Coda and Rick Jetter have something in common: They both fell prey to workplace bullying and politics in their respective school districts. Although they tried to navigate through the rough waters, they drowned (metaphorically speaking). Work was so difficult that it even led to self-destruction.
But Rebecca and Rick are resilient. In time and with a solid network of support, they both slowly found their way to the surface. And they surfaced with new-found strength–and a book idea!
On their website www.leadershipdunktank.com, Rebecca and Rick share their personal story of how they met and collaborated on their book, published by Dave Burgess Consulting, Inc.. They also provide a list of articles and books they read that influenced Escaping the School Leader's Dunk Tank: How to Prevail When Others Want to See You Drown.
As Rick and Rebecca began telling their stories, they realized that nearly every educational leader had a story to tell. They collected dozens of raw and real narratives from educational leaders about educational politics and adversarial conditions that went awry. The daily torment of school leaders and teacher leaders happens more often than one might think.
These collected narratives of educational leaders span from instructional coaches up to school board members. This book outlines preparedness, hope, and heart in the field of education and it is the first book in their "dunk tank" series. Escaping the Teacher's Dunk Tank is currently being written by Rebecca and Rick, as well.
The mantra throughout the book is, "Do what's right, give it your best, because life is the most meaningful test." And sometimes doing the right thing will land you a spot on the dunk tank platform.
Escaping the School Leader's Dunk Tank is now available on Amazon in paperback and Kindle.  Don't forget to also read Rebecca and Rick's (R&R) regular column on School Leaders Now as they offer stories and advice on all sorts of leadership matters and school issues. And if you have a story to tell, please reach out and share your story. Who knows your story could be the next featured on School Leader's Now.
Here's what some well-known educational leaders have to say about Rebecca and Rick's book:
"Escaping the School Leader's Dunk Tank tackles challenges that school leaders will face at some point in their careers. This book provides a unique and thorough analysis of types of adversarial conditions, and the powerful stories that the authors collected from school leaders across the nation will provide leaders a chance to reflect, plan, and think about how they might prevail in their roles."—Todd Whitaker, Professor at Indiana State University, internationally recognized education expert, and author of more than 40 books, including What Great Principals Do Differently
"This book doesn't just address the elephant in the room; it rides it out of the room! A very REAL look at school politics and typical adversarial conditions that leaders face along with practical tools for thriving in any school leadership role."—Annette Breaux, international educational expert and author of The Ten-Minute Inservice
"I'm calling a home run right now! Bold, unconventional, and arguably the 'realest' school leadership book you will ever read. Rebecca Coda and Rick Jetter definitely don't pull any punches. With riveting case studies that highlight the good, the bad, and the ugly . . . I've never read a more honest assessment of politics in education and how to rise above the perils to pursue excellence for kids. Escaping the School Leaders' Dunk Tank is one of those rare books that you won't want to end."—Brad Gustafson, 2016 NAESP Distinguished Principal Award Winner and author of Renegade Leadership
"Looking at the six years where I have been an administrator and the last five years as a principal, it does get lonely at the top. The feeling that someone is always criticizing your every move is palpable, and the isolation effect of the position breeds the feeling of a closed space. This book highlights many of the hard lessons I have learned about school leadership, especially in being a very young administrator. To put the leadership position into a focused context is a moment of relived experience in every word that is read, and any aspiring administrator would be best served to read this book over and over again. In fact, I would highly recommend this book to any school leader, seasoned or neophyte. Rick and Rebecca have come up with practical, yet meaningful, strategies to leverage this dream position to build better relationships, rise above all of the exigent factors that make the job nearly impossible, and have the feeling of success that came with first being named to the job return in spades!"—Rob Bueche, Principal, Flint Community Schools
"We have all been dunked before! If you have ever even tried to be a leader in a school, then you know the feeling. This book will make you feel like you are not alone. It is a great, practical read for any educator in any system. A great collection of real life examples."—Jennifer Fox, school improvement and data/assessment consultant
"Rules are meant to be broken. Jetter and Coda share stunning vignettes uncovering educational politics; the candor shocking. A must-read for aspiring educational leaders."—Catherine Barrett, M.Ed., Arizona master teacher coach, Phoenix Union High School
Free Book! Send Us Your Questions
If you'd like help from Rick and Rebecca, send an e-mail to drjetter1@gmail.com.  Each week, Rick and Rebecca will choose their favorite question for possible inclusion in a future column. That school leader will receive a coupon for a free book (up to $25), courtesy of Advanced Educational Products (AEP), a national supplier of books for K-12 schools and libraries.