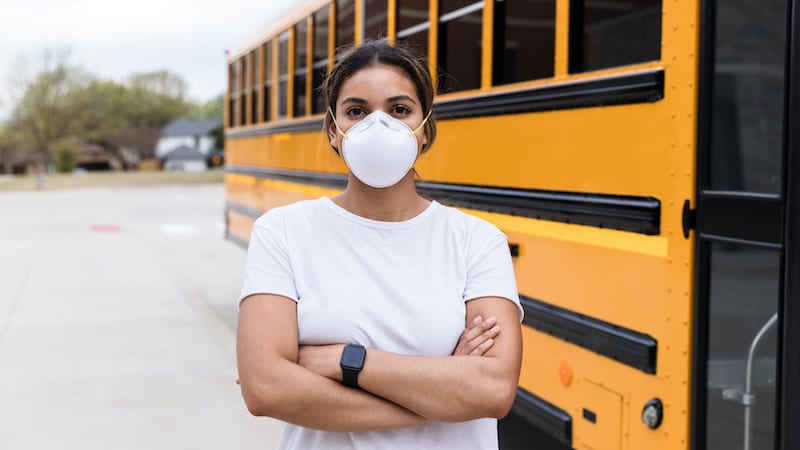 Thanks to outrageously gerrymandered school districts in my area, most of the kids who live in apartments go to one set of schools and all the kids who live in houses are in a different school zone. I teach at one of the poor schools; virtually all my students get free lunch and most live substantially below the poverty line. But I live in a house, so my kid goes to an affluent school where there's a lottery for who gets to chaperone the trip to the water treatment plant, and the Signup Genius for the Thanksgiving Feast is full within 2.5 minutes. The disparity in PPE in schools will be drastic.
Our county hasn't announced its plan for reopening yet, but my son's school's social media is already very active. Parents are working to provide sanitizer and finance extra cleaning and they are purchasing plenty of reusable masks for teachers and parapros. My school? Well, I ordered five really cute seersucker masks on Etsy and have found a park up the road where we can have class, so that's cool.
Here are some other ways PPE will look different in schools in higher economic areas.
1. Affluent schools will have an easier time with social distancing
Not exactly PPE, but relevant. Students at schools in higher economic areas are more likely to have a parent who either doesn't work or can work remotely, meaning their parents can opt for digital learning (if that is an option) or even fully homeschool. And I know a lot of parents who are going this route. Schools in lower economic areas, meanwhile, are necessary sources of both childcare and food, so good luck cutting class sizes with the economy the way it is.
2. Affluent schools generally have better facilities
Luckily for me, my school was built in the 1940s, so we have windows that open. Not the case for many schools. Schools in lower economic areas are more likely to be overcrowded, have classes in trailers, and use closets for offices. True story: two years ago I gave standardized testing to a small group in a storage closet, and we had to evacuate because a kid knocked over a container of weed killer. At least we were only breathing in Roundup and not a potentially-deadly virus!
3. Affluent schools can fundraise
Well-off parents can donate a week at their beach house for the silent auction. Or bid on a week at somebody else's beach house in the silent auction. Or just buy extra masks for the teacher! They raise money to repaint the bathrooms and get new HVAC in the gym and revamp the salad bar; they'll be able to purchase all the hand sanitizer and make sure the windows open and the outdoor classroom is usable. Less-affluent families want to do stuff like that, but it's not an option. Which leaves teachers to buy the hand sanitizer … if they can find it. I know teachers who have been grabbing every can of Lysol Kroger will sell them, just because they know they'll need it whenever schools reopen.
4. Affluent schools take care of teachers
My school loves its teachers, and they'll do their absolute best to take our needs into account, whether the federal or state governments do so or not. But we're operating on a shoestring budget, like everybody else; a budget that is facing drastic cuts this year. In schools like the one my son attends, parents rush to fill in the gaps. In the past, they've sent in extra school supplies, hosted elaborate teacher appreciation events, and bought good gift cards for Christmas. Now, we're already transitioning to cute masks (but can we go ahead and outlaw any with apples or rulers?), extra Clorox wipes, and disposable gloves. Teachers at less-affluent schools will have to fend for themselves when it comes to these supplies.
5. Affluent schools have students who are better-prepared
My son has a week's worth of masks, despite the fact that he hasn't been anywhere since March. If he goes back to school, he'll be equipped with masks and sanitizer and a Costco-pack of sanitizing wipes. Meanwhile, at my school, I'm guessing we will hand out a paper mask to each student on Monday. Boom. Done. That's what we can afford. And their parents can't afford to buy them a bunch of masks, so maybe they'll have one reusable one that gets washed once a week at the laundromat. So, that'll be helpful.
It's an old song, and teachers in Title I schools know it by heart. Our government won't provide the financial support we need, and our families can't. So, as they do every year, teachers will end up standing in the gap as we try to keep our vulnerable populations safe.
What do you think about the disparity in PPE in schools as we head into the fall? Share your thoughts on our WeAreTeachers HELPLINE Facebook group.
Also, Teachers, We are in Danger of Caretaker Collapse.