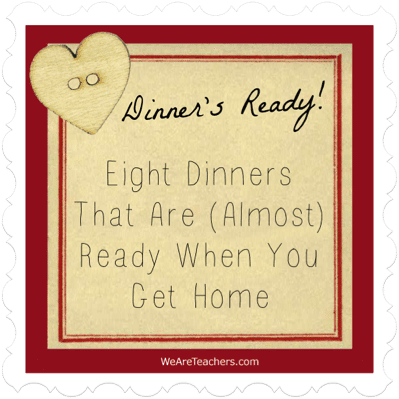 by Rachel Randolph
"Your future self will thank you." That's what I always tell myself when I do things like go to the grocery store on Sunday night even though it's rainy and cold and all I want to do is curl up on the couch with my husband and watch our DVR'd shows or when I wake up a few minutes early before a busy day to put dinner in the slow cooker. And then, on Monday, when I have all the groceries I need for the week's menu, or when after that long day, all I have to do is open up the slow cooker or throw some marinated veggies on the grill, I pat myself on the back and say, "Thank you, thank you. How did you know this is exactly what I would need right now? You know me so well!"
Be kind to your future self and put a few of these dinners that are ready (or almost ready) when you get home from school on the menu this week.
Slow Cooker Meals
Hawaiian Pulled Pork Sandwiches
I've fed this Sandra Lee dish to a group of hungry teenage boys on more than one occasion. I like the sauce so much I often use it for my veggie stir-frys. (If you can't find pork shoulder, pork butt is often easier to locate and is actually part of the shoulder. Whoever thought of naming a portion of the shoulder cut, "the butt," must not have had a marketing or restaurant background. I mean, how does that sound more appetizing than shoulder?)
Slow Cooker Pinto Beans & Cornbread
Soak the beans and make the cornbread the night before, then start the slow cooker in the morning. When you come home, you'll have a humble, delicious, warm-you-to-the-bones meal waiting for you. Wilt some hearty greens like kale or spinach in your steaming hot bowl as you serve for an easy veggie addition. Kids may prefer a burrito or quesadilla, which only takes a few extra minutes. Mash up some of the beans and wrap them in a tortilla or layer with cheese and grill for a yummy quesadilla.
Bean & Sweet Potato Slow Cooker Chili
One of my favorite recipes is my Sweet Potato Lentil Chili (recipe in my food memoir We Laugh, We Cry, We Cook). This recipe from Real Simple has a similar flavor profile, but cooks slowly while you're away at work.
Potato Soup
Since the main prep for this dish simply involves cooking some bacon, it's the perfect dinner to prep while you're making breakfast. Or, try this lighter Leek and Potato Soup.
Crockpot Veggie or Chicken Fajitas
This recipe is a perfect way to use leftover slow cooker Pinto Beans.
10 Minute Meals
No slow cooker? No problem. These dinners come together in under 20 minutes including morning prep time.
Marinated Portobello Burgers

Prep these burgers in the morning in about 10 minutes, then throw them on the grill or stovetop for five minutes when you get home. Done and done!
No need to knead with these Portobello pizzas. Simply delicious. Add some quick and easy garlic toast to round out the meal. Drizzle whole wheat bread with olive oil and garlic powder and pop under the broiler (already hot from the pizzas) for a minute until toasty and fragrant.
These sweet little kabobs are light, healthy, and a fun way to introduce shrimp to the kiddos. Make some rice the night before, add some quick sautéed or steamed veggies, and your meal is complete.
What is your favorite slow cooker or 10- to 20-minute meal?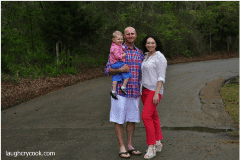 About Rachel: Rachel Randolph writes and speaks about young married life, parenting a toddler, and her and her husband's unlikely journey to a whole foods, plant-based diet with humor and sheer honesty. She is the co-author of We Laugh, We Cry, We Cook, a food memoir with recipes she wrote with her butter-lovin' mom, Becky Johnson. They also share a food blog at www.welaughcrycook.com. Rachel is married to Jared, a high school football and baseball coach. They live near Dallas, Texas with their little boy Jackson.