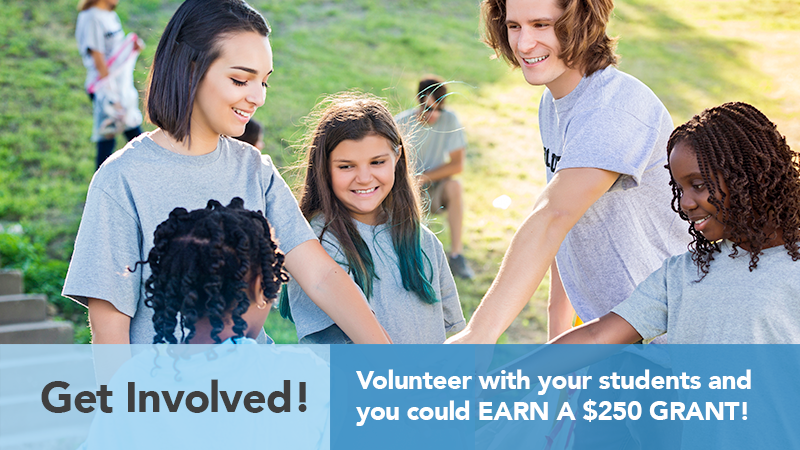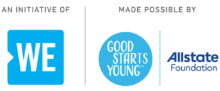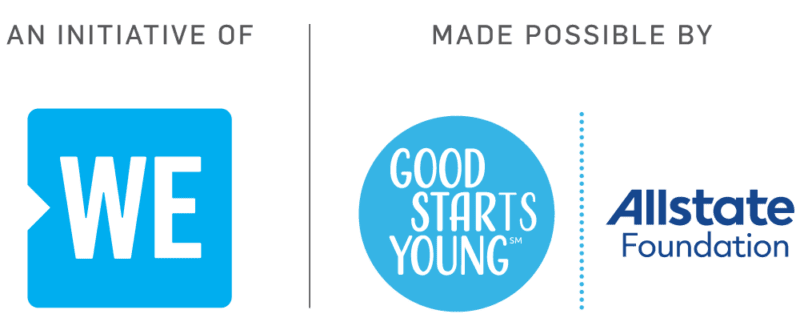 Together, the Allstate Foundation and WE empower the world. The Allstate Foundation believes that when young people are empowered with the knowledge, skills and resources to be leaders, they can change our world for the better. That's why they teamed up with WE to bring the WE Volunteer Now service curriculum to the classroom.
More
Looking for a fun way to get your students involved in volunteering and service learning? We have just the ticket! WE Volunteer Now is an inspired way to organize a student volunteer activity. Whether you want to visit a senior home, donate to a food pantry or raise awareness about a cause that your kids are passionate about—like safe driving or recycling— this campaign is an easy way to get started.
It's a fact that volunteering has been shown to help improve the health and well-being of volunteers and donors. So, what are you waiting for? Simply fill out the form to the right and you'll get an instant download from WE Volunteer Now, full of information on how to start a volunteer campaign at your school. You'll also get access to grade-specific lessons you can use right away. Plus, 500 schools will receive a $250 grant to use towards their volunteer project!
WE Volunteer Now Campaign Resources include:
A step-by-step guide on how to get started with service learning curriculum in your classroom
Volunteering ideas
Teacher checklists to keep you on track
A worksheet for you to complete with your class—by the end you'll have a solid idea of which volunteering option is best for you!
We Volunteer Now curriculum
500 schools will receive a $250 grant to use towards their volunteer project!
Together we can bring out the good!
We're so excited you would like to join other WE Schools across the U.S. in taking part in making meaningful change in your local community through WE Volunteer Now and planning service projects this academic year. Made possible by The Allstate Foundation, the WE Volunteer Now grants help schools and youth groups in their effort to give back to their local communities in a creative and unique way! The grants are worth $250, and there are 500 available. The grants will be distributed on a first-come, first-served basis to all eligible schools/groups, to be used towards supporting your volunteer project! The eligible school or youth organization must:
Have an educator, administrator, or adult group leader to fill out this application
Be based in the U.S. and registered in the WE Schools program*
Plan to use the provided funds between October 2017 – October 2018
Include students/youth participants in grades K-12
Participate in the WE Volunteer Now Campaign*
As per additional eligibility requirements from The Allstate Foundation, your school or youth organization cannot use the grant to:
Advocate religious or political ideology
Attempt to influence legislation
Promote political campaigns
Directly donate the funds towards fundraising events such as golf tournaments, charity dinners, walk-a-thons, etc.
Fulfill individual or group pledges
*As part of the grant application, you will be automatically registered for the WE Schools program, a service-learning program provided free-of-charge. For more information:
http://www.we.org/we-at-school/we-schools/
. By entering my email address, I agree to receive emails from WE that are designed to help me change the world – through WE Schools resources, events and other recommended opportunities. I can unsubscribe at any time,
contact WE here
and read the
WE Privacy Policy here
.
Back to top