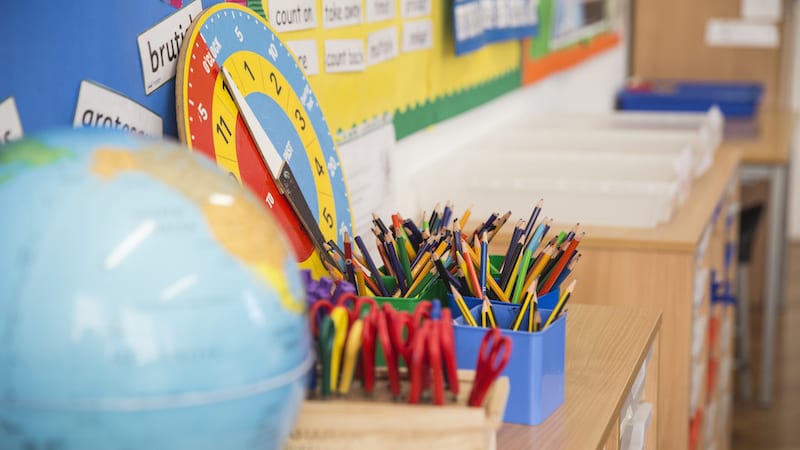 2020 was a tough year, but even as we remain hopeful for better in 2021, we must continue to be vigilant in keeping our classrooms sanitized and safe. Hopefully, like mine, your school has a strong custodial team to take the lead. But for now, it's all hands on deck. To help prevent the spread of the COVID-19 virus, we'll all be pitching in. Many school plans require mask-wearing, frequent hand washing, social distancing, and daily cleaning, but there is a lot of information out there, and it changes daily. We've rounded up our recommendations (based on guidance from the Centers for Disease Control) for cleaning protocols for schools, so you can focus on what you do best: teach.
Focus on high touch areas
While the COVID-19 virus is thought to spread mostly from person to person, it may also spread from touching one's face (nose, mouth, eyes) after touching a contaminated surface, leading to possible infection. A school is full of high touch areas (door handles, drinking fountains, light switches, playground equipment, tables, stair rails, desks, light switches, toilet handles, faucet knobs, and more). The CDC recommends that adults in schools clean high touch and communal areas frequently or in between each use.
Try to establish 5-10 minute cleaning breaks between each class period
If possible, adjust schedules so there is more time to clean in between classes. Consider the pros and cons of shortening class periods or making them longer. The EPA has an approved list of disinfectant products that can be used against SARS-CoV-2. Lysol Disinfecting Wipes are a way to help disinfect high-touch surfaces and help stop the spread of germs, when used as directed.
Operate under the assumption that if you touch it, you clean it
Finally, cleaning protocols for high touch areas are an important line of defense. Sue Demski, a fourth grade teacher at West Muskingum Schools in Zanesville, Ohio shared that her school's procedure is that if you touch it and others will touch it after you, you clean it. She noted that "teachers are being proactive and asking for disinfectant wipes and hand sanitizers" in order to make that happen.
Pay extra attention to computers and technology
Computers make up an area of high touch that needs frequent cleaning. First, post signs reminding students to wash their hands before getting on a computer. Next, make hand sanitizer readily available in the lab. (Be sure to keep it out of reach and use adult supervision for our youngest learners.) When cleaning, remember that keyboards are challenging to clean and disinfect, and glass screens are delicate. Too much liquid can damage electronics. Rather than spray cleaner on a paper towel, use a Lysol Disinfecting Wipe followed by a soft microfiber cloth.
Nix shared supplies whenever possible
Students are used to sharing supplies in their classrooms. Manipulatives in math. Plush toys in Pre-K. Markers, scissors, and crayons in art. This year students need individual supplies whenever possible. Replace the class pencil sharpener with individual sharpeners, and ask students to bring their own tissues instead of using a class box. If supplies are shared, clean them in between each use. While this might seem like a lot, we've rounded up our favorite hacks for cleaning quickly. One of our favorites is for plastic materials like manipulatives. Toss them in a mesh laundry bag and run them through your dishwasher.
Clean multiple times a day and in between uses
So how often do we need to clean? The Harvard T.H. Chan School of Public Health published a report with helpful guidelines. Classrooms, desks, tables, and chairs need to be cleaned daily. High touch surfaces like door handles, drinking fountains, and light switches should be cleaned multiple times throughout the day. The report recommends that shared supplies like keyboards, printers, seats on a bus, art supplies, and writing utensils are cleaned in between uses. The bottom line: clean frequently, especially for shared or high touch surfaces and supplies.
Give students appropriate cleaning tasks
We are all in this together, including our kids. First, teach them how to make good choices. Use strategies like acronyms to help them remember (we love the NC Department of Health and Human Services, Know Your Ws: Wear, Wait, Wash). Next, create posters or anchor charts and put visual reminders on school walls, so students have a reference in case they forget or aren't sure what to do. The CDC has a library of posters you can download and print. Finally, use resources that teach students how to make safe choices and how germs spread (we love Lysol's HERE for Healthy Schools curriculum that has 30 lessons to choose from).
Lean on your administration for guidance

Information about COVID-19 changes daily (here are the CDC guidelines for reopening schools). School leaders can work with teachers and staff to build a school culture focused on health, safety, and shared responsibility. Here are some ideas: train the school community and start each morning with an all-school safety message. Prioritize teaching safety. Students can design and display posters with reminders in bathrooms, computer labs, cafeterias, etc. Then, remember: positive reinforcement is a great way to let teachers and staff know that they are doing a good job. Schools are communities capable of rising to any challenge and getting through it together as long as they have the right tools!
Remember to put Lysol Disinfecting Wipes on your school supply list, and for resources on keeping classrooms clean and kids healthy, check out Lysol's HERE for Healthy Schools.
Get FREE Lesson Plans and Activities
* Any reference to a specific product does not constitute or imply an endorsement by Lysol(R). This article may contain links to third party web sites. The linked sites are not under the control of Lysol and Lysol is not responsible for the content of any linked site or changes and updates to those sites. The linked sites are offered as a convenience and as such, you are responsible for viewing and abiding by the terms of use and privacy statements posted on those third party sites.