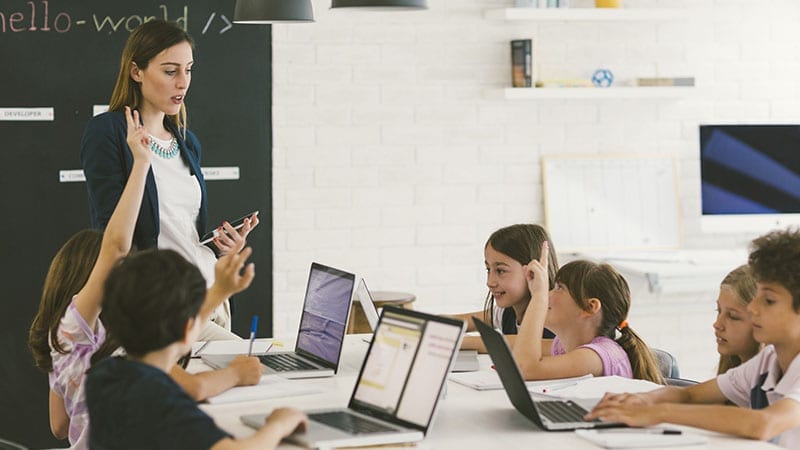 How I became a technology convert after 22 years of teaching.
I used to worry that students would consider classroom technology a toy. Then, last spring, I took a district-provided, six-week course on designing curriculum with iPads. Each attendee received 10 iPads for their classroom. Examining content delivery, it is clear that videos engage students and aid in learning content. But finding great content can be a time-consuming task. The question becomes: How does a teacher gain access and time to successfully integrate technology into classroom instruction without it becoming cumbersome?
I add tech dimensions to tried-and-true assignments.
Now I am redefining my classroom with Substitution, Augmentation, Modification, and Redefinition, the SAMR model of computer technology. For example, my students have always been required to write a narrative story. With our new technology, we created a digital story to act out the written story. Students created settings and characters through drawings, toys, Legos, clay, and Stikbots. Then they took pictures of scenes and turned them into movies where they read their story with voiceover.
It was a wonderful introduction into how technology can redefine my students' learning.
My Earth models is a project that embodies my transition to a STEM-focused classroom. In the past, students made posters and clay models of the Earth. This year, students used Tinkercad, an online 3D design site, to create a 3D model of the Earth. Sharing their 3D creations with the different layers and labels was awesome! Not only did this activity reinforce the layers of the Earth, but also it gives students practice using digital design tools. An article was shared with us from geologypage.com of a 3D model of the Earth.
My students engagement was evident in their comments on how similar our Earth models looked to this professional model. We discussed what tools the creator of the 3D model used compared to the tools we used.
This success has driven me to find ways to integrate technology in meaningful ways into more of my lessons, and I am finding many familiar resources have options available to me. Discovery Education is one of those. My students can access reliable information and video on their own, create boards to share experiments, and I can create assignments and quizzes for them.
Communication and assessment improves with technology too. 
The last digital assignment I gave my students sums up how it is changing my classroom. Each student was to identify a problem in a book they were reading and take a photo of the page. From this photo, they used digital tools to clarify the problem and respond to it using emoji's and words. These were uploaded into our digital portfolios, where I graded them online. Parents viewed and commented on the work. My class was engaged not only with the digital tools but with the responses and connections they made with their parents.
Our classroom technology has made it easier for students to create digital portfolios using Seesaw. It also gives me a variety of visual and auditory assessments of student's work, enabling me to have a clearer picture of their understanding of content. Being able to share their work digitally with their parents and each other has been a valuable communication tool. Through digital portfolios, parents have a closer connection to daily happenings in school and completed assignments. There is a better chance of parent-child discussions through digital portfolios than paper-based assignments.
If we live in a digital world, students should learn how to navigate it now.
Relinquishing control over classroom technology and thinking students would view the technology as a toy rather than a tool, this has not been an easy transition for me. I am always concerned about how much time children spend in front of a screen. We live in a digital world and jobs are becoming more technology based. The best way to educate our students about how to properly interact with technology is to adapt and use it in the classroom as a tool. Having students collaborate with online resources teaches them skills they will need in the workforce.
My concern with students viewing technology as a toy is gone. Now they are more fully engaged in their learning. They collaborate with each other; ask questions about how someone produced a piece to a project and are taking more time completing assignments because they are excited. The best part has been watching students who struggle academically with traditional school subjects; they are excelling using the digital tools to share their learning with their parents and myself. I can better evaluate my students' learning using all of the tools available to me rather than just pencil and paper and have found this to be a more accurate picture of their growth.
I am hooked on STEM education. I use it for content delivery, digital assignments, and communication with parents.
Nicole Sarty is a 5th grade teacher-leader at the Galileo STEM Academy in Idaho's West Ada District.
Join our Facebook group Principal Life for more ideas on how to transform your school community.