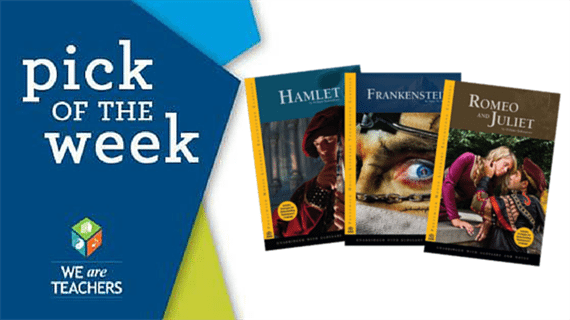 Brought to you by Prestwick House
More
We all know the importance of not judging a book by its cover, but we also know the impact of that moment when students get their copies of the new book for class. It's that make-or-break first impression! That's why we love these fresh classics from Prestwick House. The colorful cover art and lightweight feel will get your students excited to start reading. And the price is right, starting at 99 cents per copy!
Prestwick House Literary Touchstone Classics
Breaking down Shakespeare: We especially love the Shakespeare editions in the series, which bring the Bard to 21st-century teens. The unabridged Romeo and Juliet runs only 102 pages, while its large pages make room for an easy-to-read font—even the wariest Shakespeare reader will feel empowered. Each page has accompanying footnotes explaining the more challenging words and phrases—no flipping to the back of the book necessary. The back of each book offers chapter-by-chapter vocabulary lists and a convenient glossary that you can incorporate into vocabulary or language mini-lessons.
Top-notch teacher editions: The comprehensive teacher edition features the entire text and page-by-page teaching points that will help you organize a lesson or discussion of the reading. This will be especially helpful for teachers teaching a book for the first time! For example, on page 27 of the teacher edition of Mary Shelley's Frankenstein, a metaphor in the text is highlighted and explained in the margins. Alongside that is a question that you may pose to the class to help kick-start discussion. This helps enhance your own understanding of the text while providing tools for you to help engage your students, particularly with close reading and passage analysis.
Sample of Close Reading With Prestwick House's Frankenstein:
From the text

: "I, [my parents'] eldest child, was born in Naples, and as an infant accompanied them in their rambles. I remained for several years their only child. Much as they were attached to each other, they seemed to draw inexhaustible stores of affection from a very mine of love to bestow them upon me" (Shelley 27).

Prestwick House's teacher edition analysis

: "Shelley uses a metaphor to compare the inexhaustible amount of love Frankenstein felt to a mine. The metaphor works on two levels: What comes out of a mine is valuable, and mines usually have large stores of material in them. Love is priceless, and his parents' love for him shows no signs of ending."

Class discussion question

: "How does the metaphor of love compared to a mine work to show the stranger's remembering what he felt as a child?"
Here are three ways you might use Prestwick House Literary Touchstone Classics in the classroom:
Create authentic vocabulary units using the word lists and definitions provided in the back of the book (no photocopying required!).
Use the chapter-by-chapter discussion questions provided in the teacher's edition to jump-start class discussions and Socratic seminars.
Read "Reading Pointers for Sharper Insights" at the beginning of the book. Assign one motif or theme to each student to journal about as they read, and then present their findings to the class after finishing the book.
Find it: Prestwick House