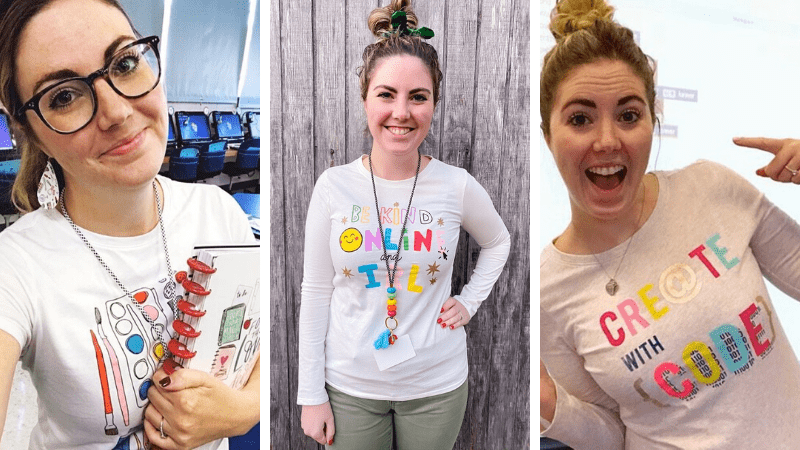 Have you ever moseyed by the kids' section at Target, admired the adorable Cat & Jack shirts with their colorful designs and on-point messages, and wished that they came in adult sizes? We have. 🙌
And according to Instagram, we're not alone. (Phew.) Teachers across the interwebs are summing their collective social power to beg Target to release adult sizes in their line of Cat & Jack shirts, and we have Chelsey Odgers, Lisa Dunnigan, and Tosha Wright to thank.
Odgers, aka @HipsterArtTeacher on Instagram, is a K–2 STEAM and technology teacher in New Jersey. She teamed up with Dunnigan and Wright, cofounders of The Wright Stuff Chics, to petition Target expand the kids' line of Cat & Jack apparel to adult sizes.
On January 4, Odgers shared a post to Instagram, asking Target to make Cat & Jack T-shirts available in adult sizes. It wasn't long before the post caught fire and had been shared by teachers across the country.
Just a heads up. As editors, we keep our eyes peeled to spot trends, find cool stuff, and write about things that we love and think you will enjoy too. This post contains affiliate links. We may receive a small commission when you purchase through our links, at no cost to you.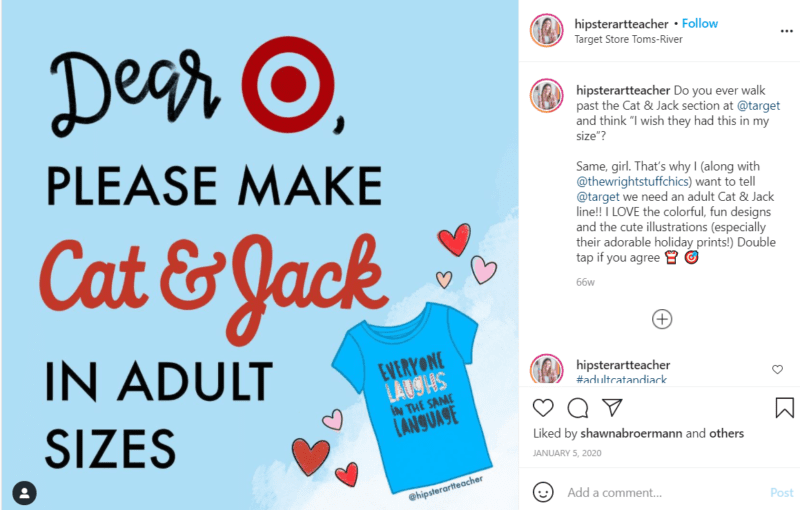 Source: @hipsterartteacher
"I love the Cat & Jack line, and Target of course!" said Odgers. "Their colorful, cute prints send messages of kindness, hard work and determination."
Odgers and many other teachers confessed to squeezing into larger kids-size shirts because they loved the message so much. But not everyone is able to fit into kids clothing. Not even all children.
"An adult line would also be ideal for children who may be a larger size than a 14/16, who want access to age-appropriate graphic tees," pointed out Odgers.
Dunnigan and Wright are also excited about the overwhelmingly positive response from the teacher community in support of the Cat & Jack adult-size movement. Their site features bright and colorful teacher shirts with sayings like "I'm Here for the Kids" and "Teaching Is My Happy Place." They're hopeful about partnership opportunities ahead.
"Every year we make a bucket list of things that we want to accomplish in the new year with our business. Working with Target is at the top of our list," said Dunnigan. "We all love the Cat & Jack collection. We are hoping to have a Teacher Tee Collection added for specifically for educators."
Our editor, Hannah Hudson, is also here for the trend. Here she is flaunting one of her favorite Cat & Jack shirts.
We want to hear from you! We're polling our Facebook followers to find how they feel about Cat & Jack expanding their line to adult sizes. Share your vote here!