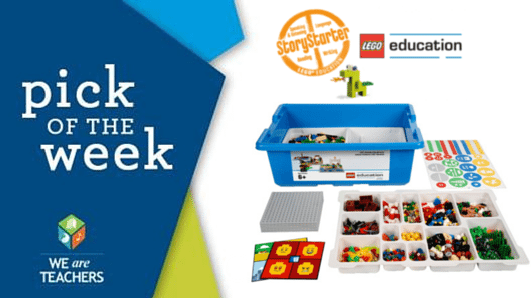 If your students are as LEGO®-obsessed as ours, you might want to check out some of the special kits designed just for the classroom by LEGO Education. We're head over heels for the StoryStarter Core Set, for example, which comes with 1,144 pieces, a writing-inspiration wheel and more. (And if you are quick, you can receive a free sample kit and activity booklet!)
Teacher Review: LEGO Education StoryStarter
Why we love it: The StoryStarter kit might be the ultimate inspirational tool for writing. Students in grades 2–5 can build all kinds of LEGO creations from the included Minifigures, animals, accessories, basic bricks, building plates and the helpful story spinner. Then they can use the StoryVisualizer software to capture their creations and digitally publish their stories with professional flair.
Build motivation for writing: It's natural for kids to want to describe their LEGO creations, and the StoryVisualizer software helps build the bridge between talking and writing about their work. The easy-to-use graphic interface makes it simple for students to create high-quality stories for printing or sharing with others.
Construction across the curriculum: The StoryStarter Curriculum Pack provides lessons that can be integrated through a variety of subjects and themes. It includes complete lesson plans and software tips for 24 activities correlated to the Common Core, national and state-driven language, and literacy standards.
Ideas to try in the classroom:
Invite students to create a story set in the time period you are covering in history lessons. LEGO Minifigures can represent Native American tribal leaders, early explorers, Civil War generals and more.
After studying the concept of storyboarding, have students create their own storyboard concepts for a LEGO movie sequel.

Assign each student the reading of a scientist's or inventor's biography and then use the LEGO bricks, Minifigures and software for a multidimensional nonfiction book report.
Bottom line: The well-loved LEGO tools in the StoryStarter kit will engage even the most reluctant readers and writers. The combination of traditional tactile building and story creation on the computer will make writing as enjoyable as free play or screen time.
Try it: Demo Version of the StoryVisualizer Software
Find it: LEGO Education
Special Offer: Click here to complete the request form and if you are one of the first 1,000 respondents, LEGO Education will send you a FREE StoryStarter sample kit and activity booklet to try firsthand!
Open to legal residents of the 50 United States and the District of Columbia, employed or working within the education field (K-12) at time of entry.