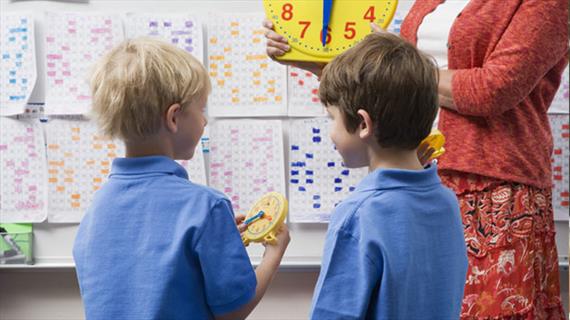 Teacher Bailee asks the helpline:
"Hello! I am a student teacher working in a Grade 2/3 class. Does anyone have any suggestions or resources on teaching students how to tell and measure time?"
Great question, Bailee. We've found that teaching students how to tell time has gotten more challenging now that everyone carries at least one digital device that records the time—even some second and third graders have their own cell phones! As usual, however, our helpliners are full of good advice. Here's what they had to say:
Anything hands-on is great. Have them create their own clocks with paper plates, brads and pieces of paper, or use a hula hoop on the blackboard to create a clock for practice. —Ashley B.
In second grade, we make paper clocks and write students' first names on the hour hand and their last names on the minute hand. I then tell students, "We always say our first name before our last," e.g., "five" (first name) "thirty" (last name). —Barbara M.
I do a "human" clock. Kids sit in a circle holding numbers and they turn the hands as I read "The Grouchy Ladybug" by Eric Carle. —Vianne L.
Purchase an analog clock in the classroom. You can find cheap ones at the dollar store. It's hard to learn to tell time in our digital world! —Lilly A.
Laminate blank analog clock templates, putting a box underneath for digital time. Then give everyone dry erase markers and a sock. Tell students that the word "hour" is a short word and the hour hand is the short one, while "minute" is a long word and the minute hand is the long one. It helps them to keep it straight. Then practice calling out times and having students write or draw both the analog and digital versions. —Suzanne K.
Bring in a variety of clocks and explain their different uses. For example, a sand timer is used for playing games and taking turns, while a stopwatch is used for sports and an alarm clock is used to wake up in the morning. <em">—Sadi M.</em">
Check out "Match My Clock," by Harry Kindergarten on YouTube. —Sharon A.
My students love these "Farmyard Tales" telling time flashcards.—Corinne W.
Do you have more advice for Bailee? Please share it in the comments.
Need advice from the helpline? Post your question to our Facebook wall and we'll share it with our community of 36,000 educators.