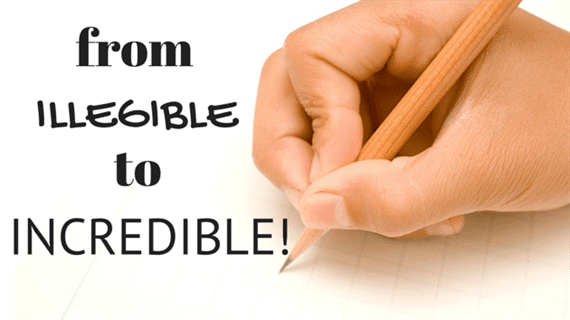 Is there anything more painful than sitting down to grade a stack of papers filled with your students' indecipherable handwriting? While it's often overlooked as a skill–so much so that many districts are dropping it as a required area of instruction–having clear handwriting is essential. Here are some ideas from the teachers over at the We Are Teachers Helpline on how to help your students improve their penmanship.
1. Think "font," not "penmanship". For today's students, "penmanship" sounds like an ancient concept. "I have my messy writers choose a font to copy instead of doing 'penmanship.' It helps them focus and pay more attention to the details of the letters." – Marielle E.
2. Try graph paper & pencil grips. "Use graph paper and have them work on getting each letter in one box on the line, skipping a box between words." – Beth L. "Try pencil grips so they can keep better control over the writing implement." – Elizabeth P.

3. Deduct points. If a student's handwriting is so bad that it's impossible to tell what she's written, deduct points from her grade on the assignment. "I am perplexed at how many of my middle school students have really wobbly, messy writing, with strange patterns, like capital T's in the middle of a word, or not fully connecting 'a' or 'g' so they look like 'u' and 'y'. I teach Spanish, and spelling counts, so I have to mark them down. After getting marked down once or twice, most will then take the time to do it right." – Jackie M.
4. Try positive or negative reinforcement. For the students who have messy handwriting simply for lack of effort, try different motivational strategies. "Sometimes you just have to use the old, 'You will be doing this for recess or free time' (I never actually have to do it, because they NEVER want to miss those!), or even reward with 'eating lunch with the teacher.' Kids love that, and that's how I get a lot of my quality work turned in." – Jessie M.
5. Practice daily. "Set aside five to ten minutes a day to hone the skill." – Liz Q. For students who already have neat handwriting, they can take that time to practice other cool kinds of penmanship, like bubble letters, calligraphy, or other cool, Pinterest-worthy typography.
6. Bring in the experts.If handwriting is an issue with many of your students, consider asking your principal to invest in a program. "Our students use a program called Handwriting Without Tears, and it helps a lot." – Michelle C. Also, avail yourself of your district's existing resources. "Get advice from your school's occupational therapist, and see what she recommends!" – Becca M.