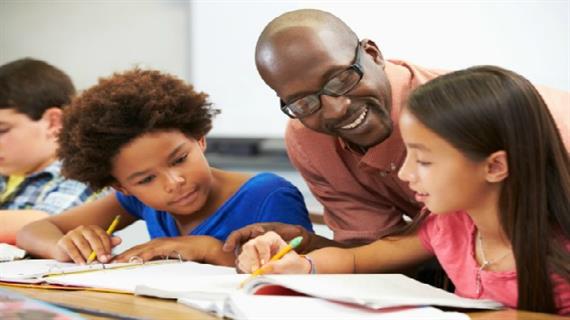 Teacher Ellen writes:
"I was out sick for a few days but am now healthy enough to return to school. However, I've lost my voice. How can I teach when I can barely even speak?"
Teaching "on mute" is challenging, but it can be done! Here are some tips from our teacher community over at the Teacher HELPLINE for those days when you're healthy enough to be in school, but still recovering from a lost voice.
Gargle with salt water and warm water. It can help! – Amy L.
I point a lot when I can't speak loudly or at all. – Julie W.
Do you have an LCD projector? When I lose my voice, I have a bell to get attention, and then will type directions on the LCD projector for what the students should do. – Julie K.
Grab your most social kids and give them a productive purpose–to be your voice! Have them repeat the directions if you can whisper them. They'll love getting a positive leadership role in class. I've done this before, and they told me they hoped I wouldn't have a voice the next day too because many of them wanted to be my voice again! – Sarah A.
Be honest. Tell the kids what is happening and that you all need to work together and listen to your whispers. They will rally around you. – Julie R.
Take another day off and take care of yourself! As teachers, we tend to ignore our needs, but don't be afraid to take the time if you need it. – Lydia L.
Sounds like a good day for the lengthy art projects that you never get to do the rest of the year! – Renee O.
I use signs with pre-printed common phrases to hold up, like "Take out your homework" and "Eyes on me." – Ingrid S.
Plan lots of student-led activities for the days when you know you won't be able to speak much. – Lisa S.
Drink plenty of throat coat tea! – Lauren K.
Pantomime the directions instead of stating them. – Celia T.
If you have a SmartBoard, type your directions, and the kids will be amazing problem solvers. It could be a great experience. I have specifically NOT talked on purpose when students forget how to follow directions. – Stephanie F.

Teachers, what would you add? We'd love to hear your advice in our comments section!