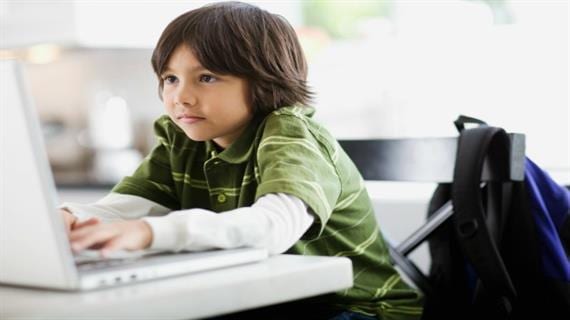 Being a teacher is all about communication, but what happens when communication becomes difficult? That's what teacher Sharon recently worried about, and she brought her concerns to the community of teachers on the We Are Teachers HELPLINE! She wrote:

"I currently teach fifth grade in a Catholic school. I'm getting a new student from France with very little English. How should I adapt my lessons and grading? Any help at all is appreciated!"
The community rallied around her with their support and offered some helpful advice. Here are the highlights.
On grading:
1. "Simplify the grading expectations, but try to stay on grade level." —Jenn S.
2. "Don't put pressure on her or yourself to get 'caught up.' She won't this first year. She needs you to be friendly and understanding. Ask the academic leaders at your school about the grading policy for newcomers. With my English-language learners, I don't take grades for the first three weeks. I partner them with other students for many assignments and let them copy for a period of time, not for a grade, but to learn how to write in the new language. That may be all she can do for a while. A great first assignment is to have her write about her immigration and illustrate it." —Mona M.
On resources:
3. "Richard Scarry books are for early years, but they can be great for older kids who are new English speakers." —Kathleen C.
4. "Picture dictionaries are fabulous to use, and beginning French books usually include English translations." —Carol L.
5. "I had a Polish student who was new to English one year, and he used Google Translate to help him understand written directions." —Emily D.
However, Google Translate must be taken with a grain of salt, as ELL teacher Matt S. points out: "Google Translate works for individual words, but it's worthless for sentences and phrases." Proceed with caution!
6. "If you have access to an iPad or computer, look up Duolingo for her, and give her time in class to work on it." —Monica L.
7. "Colorín Colorado has some great resources on this topic. You could also try the SIOP model." —Libbe B.
8. "Learning Chocolate is a good website for learning vocabulary." —Conseulo B.
9. "Reading A-Z used to have leveled books in Spanish, French and English. You could look at the books side by side." —Lyn H.
On the classroom environment:
10. "Incorporate her home language around the classroom. Use French words for common classroom objects, such as the light switch or cubby space. Place the French label above the English translation. Bonus: You can take this time to introduce your class to French culture!" —Kristina B.
11. "Get buy-in from your students to make helping her a classroom goal. They will be her—and your—biggest help if you get them on board!" —Jodi L.
12. "Partner her with someone who can help her assimilate, make sure she is on the right page, and know where she is going. A quarter of my fourth grade students are English-language learners, and this method works well for me." —Elisabeth H.

On community:
13. "I run a newcomer support group for this population at my school. It's my experience that it will be four to six weeks before you even see the real her. This kind of move is traumatic for a child—for anyone, really." —Monica L.
14. "Expect this new student to be quiet as she takes in a lot of language. It's typical. Eventually, this kid will start to talk." —Lorraine A.
15. "Don't worry about full sentences yet. Start with lots of visuals and word association; for example, a picture of a book could be followed by the word 'book.' It's a slow process." —Jessica R.
16. "Get in touch with an ELL teacher in your district for tips. I did this when I was in a similar situation, and that coaching was tremendous for me!" —Michelle D.