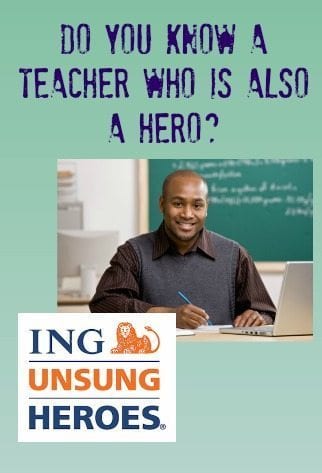 We've always believed that every teacher is an unsung hero. Who else goes to work every day and directly impacts the world by giving our next generation the tools they need to thrive? If it were up to us, we'd shower every teacher, every day with gifts and prizes and accolades, which is why we got so excited when we found out that one of our partner companies, ING, does exactly that. Through their Unsung Heroes® program, ING gives teachers the accolades they deserve and the cash they need by giving away more than $240,000 per year — yes, you read that right, two hundred and forty thousand dollars — in grant money.
Before you apply to get your own grant money (we'll be cheering you on!), we thought we'd inspire you by sharing the stories, ideas and insights of some of last year's winners.  Once you're inspired, head on over to ING's Unsung Heroes' page to share your story and apply to win.
A few (of the many) unsung teaching heroes from 2012:
(Click over to the winners page to read more.)
Cathy Monroy:  Ms. Monroy understands that true literacy goes beyond simply knowing how to read and write.  So she taught her Title 1 reading students basic camera skills and then used photography to help her students explore the writing process. 
Renee Newry:  Ms. Newry's "Society of Awesome Readers" is a summer book club program that helped readers of all levels and backgrounds to continue building literacy skills over the summer break.
Adriana Northcutt:  Ms. Northcutt created virtual science labs that helped educational technology intermix with kid-friendly (and kid-adored) gaming technology.  Which, by the way, got the students at her school really excited about STEM learning.
Daniel Calzaretta:  Mr. Calzaretta inspired future engineers by helping his students make iPod apps instead of just using them. His student technology teams designed, created and marketed real-world apps that solved real-world problems.
Scott Nelson: Mr. Nelson turned his students into aspiring environmentalists by having them design, create and implement a project that protected and isolated wetland on their school's campus.  Additionally, the students created an outdoor classroom that gives the entire school opportunities to learn and grow outside of the confines of a normal classroom's walls.
Feeling inspired? Head over to our ING Unsung Heroes page and nominate your favorite teacher (or yourself!) to win.