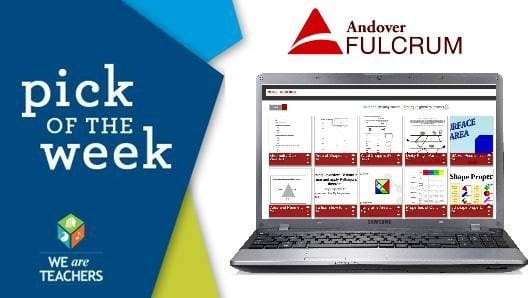 You may think you have seen all the digital teacher resources out there. But we are digging this new, free database for storing and sharing classroom materials. Aimed at the high school, middle school and elementary school level, Andover Fulcrum was created for teachers by teachers, and the educator influence shows.
We Reviewed: Andover Fulcrum
Why we love it: Andover Fulcrum is free for teachers and intuitive to navigate. Simply type into the search box your subject area, grade level and material need, e.g., "chemistry worksheet" or "American History 1800s 11th grade," and you will be wowed by the easily accessed and clearly tagged resources available. Time-saving bonus: You can print directly from the app!
Nice bonuses for teachers: Andover Fulcrum offers unlimited cloud-based user storage, which means you can store as many files as you would like, share them with other teachers and access those teachers' materials too. Plus, the more you share, the more you can win. As an incentive, top Fulcrum users win prizes, such as $1,000 to the teacher who uses Fulcrum the most by December 15, 2014, and $5,000 to the top three teacher users as of January 30, 2015! Learn more.
Feedback from other teachers: When other teachers utilize materials you have created, they leave feedback, such as how long quizzes and tests took students to finish, how challenging they found the content and why it rocked. Likewise, you can read comments teachers have left on content you are considering for your own classroom.
School wide or solo: Teachers can use Fulcrum independently or as part of a district program. Districts can create mentor teacher accounts to highlight materials from instructional leaders and distribute lessons in line with district standards and goals.
Sign up: Andover Fulcrum
Have an idea for our Pick of the Week? Share it below!