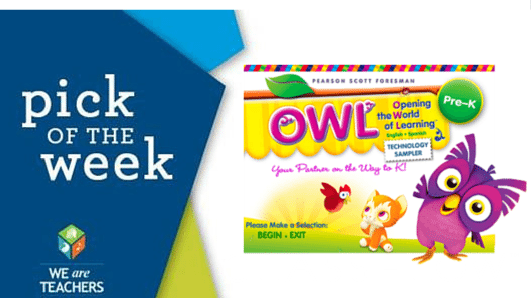 We believe that preschool should be about play, creativity and wonder. That is why we're sometimes skeptical of pre-packaged curricula, especially for this age group. But we recently reviewed a bilingual curriculum that is pretty awesome—not only does it help prepare both English and Spanish speakers for kindergarten, it also allows for plenty of teacher creativity and incorporates music, poetry, art and more.
We review: Opening the World of Learning (OWL)
Why we love it: OWL is different than other early childhood curriculums. It uses essential questions as the foundation for learning and exploration—the kinds of questions 4- and 5-year-olds are naturally asking. The program encourages meaningful, personal relationships between teachers and students, and uses a mix of interactive content, songs and poems to foster oral language and early literacy skills.
When to use it: Whenever it works for you. OWL's philosophy is that every moment in a pre-kindergarten classroom is an opportunity for learning. OWL provides eight units of learning, with four weeks of instruction within each unit. English learners also receive an additional 15 to 20 minutes of instruction each day to build English skills and close the learning gap. As math instruction is critical in the early years, OWL places a special focus on developing number and early math skills.
What's included: The OWL curriculum includes interactive digital shorts (of colorful, adorable, animal-heavy animation students will love!), digital flash cards, computer games, DVDs, interactive big books, and CDs of audio texts, songs, and poems. All components include English and Spanish versions. A digital platform just for teachers makes it easy for you to keep track of where kids are and what they need to work on.
It's cross-curricular: OWL integrates a number of preK learning areas, including social emotional, language and communication, emergent literacy, math, science, social studies, arts, technology, and physical development. For teachers and schools anxious about adequately preparing preK students for kindergarten, OWL will help lead both native English and Spanish speakers to success.
Find it: Pearson
What are your winning strategies for preparing preK learners? Share in the comments!