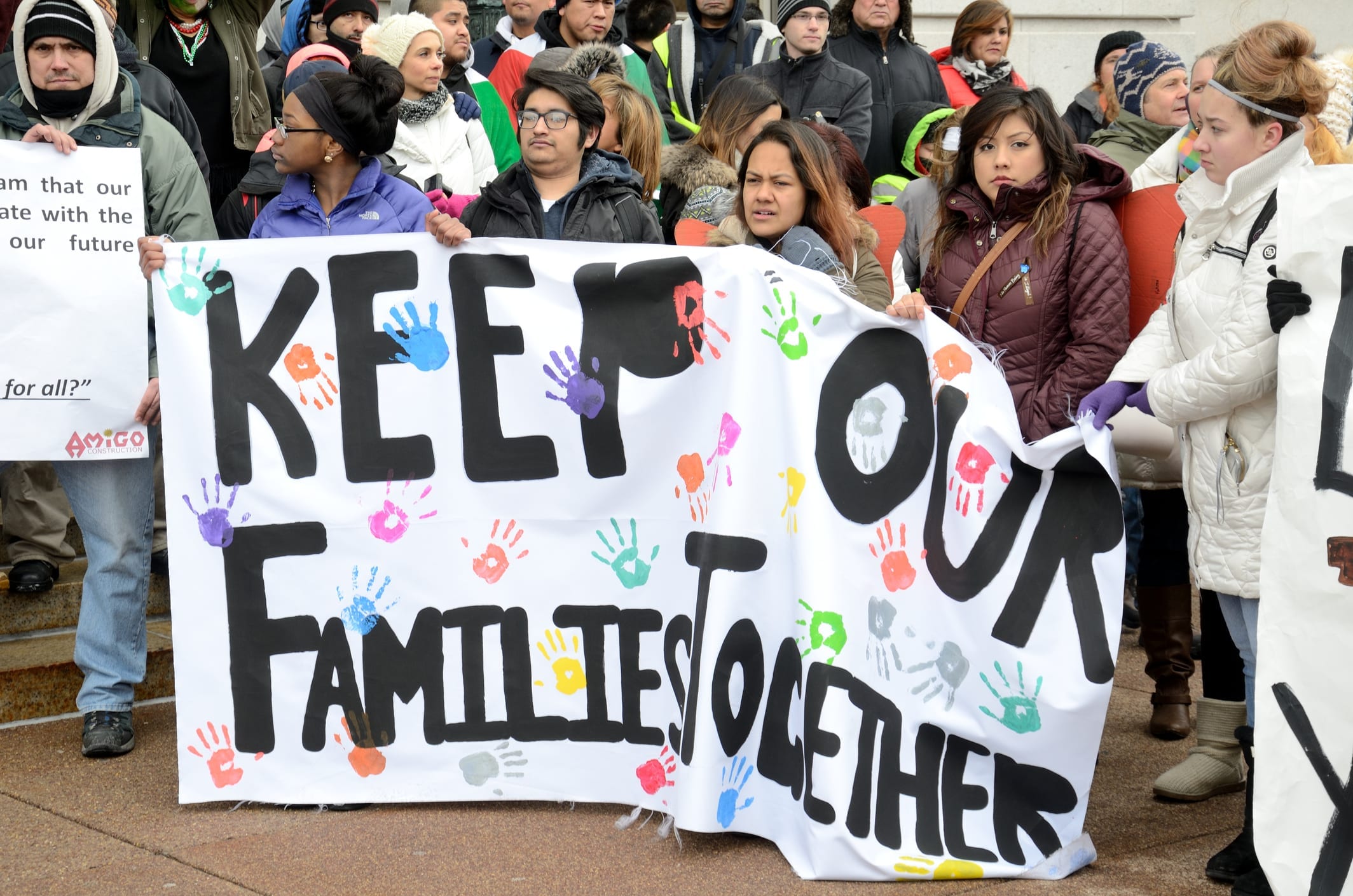 A  show of strength and solidarity, the Day Without Immigrants (February 16) was a day for immigrants and the children of immigrants–naturalized and not naturalized–to protest the Trump administration's policies around immigration by staying home from work, shopping and school. The boycott had a big impact on schools from California to New York and many states in between. Three takeaways:
1. This generation of students is very politically engaged.
In Grand Rapids, 4,200 kids stayed home from school to join the Day Without Immigrants protest of the Trump administration's immigration crackdowns.
In Austin, Texas, public schools saw an attendance rate of only 60 percent.
We walked out of class and peacefully protested in the quad. Loved this sign. #DayWithoutImmigrants pic.twitter.com/XpYc6Cg6uc

— Mariela!?️‍? (@raulsonrat) February 16, 2017
Oregon Public Radio reported: "Woodburn saw five or six times its usual absence rate across its elementary, middle and high schools on the immigrant protest day."
Chalkbeat reported that students in Memphis said: "We want to show that we make a difference." (See story.)
Students in Brooklyn, NY, took to the streets to march in protest of Trump's policies. (See story.)
2. Much, but not all, criticism of the boycott was mean-spirited.
Twitter, nesting place of trolls and haters, was full of insulting comments about immigrants and their children.
#DayWithoutImmigrants
Sanctuary State of Oregon.
4 students show for 5th grade.
They had a GLORIOUS DAY.
buncha immigrant idiots. #MAGA

— Deplorable Curt (@CurtisGillespi5) February 16, 2017
But non-trolls questioned the point of the boycott, too. As the New York Times reported: "Some people felt that the support of immigrants who are undocumented was wrongheaded. 'Of course, nobody wants to do without immigrants — they are what made America," Sarah Crysl Akhtar, 67, a writer in Lebanon, N.H., said in a telephone interview. "But there is a difference between legal immigrants and illegal aliens." The latter, she said, "bring down the quality of life for everyone.'"
3. Teachers' reactions ranged from irritation to pride.
Many students absent. 50 7th graders absent! One class had 7 students out of 25 ✊?✊?#DayWithoutImmigrants #LittleVillageChi @SSKedreporter pic.twitter.com/fEXLvNSNbk

— Sarah Chambers (@Sarah4Justice) February 16, 2017
The Riverside County school district is investigating the above teacher's now-deleted Facebook post, in which calls boycotters lazy. (See story.) 
Missing my sweet students today & wishing them a beautiful afternoon. #youmatter #ADayWithoutImmigrants #RESISTANCE #DayWithoutImmigrants https://t.co/XJcgbFOF4f

— Cottage Dogs (@cottagedogs) February 16, 2017
One teacher wrote into Pantsuit Nation, a "secret" Facebook group of  some 3 million Hilary Clinton supporters, wrote about how her immigrant students are among her best students:
"I am a high school teacher in a school with immigrants from all over the world. We have over 50 languages spoken in our school and many of my students are undocumented or refugees. Today, during my lunch hour I was grading the same assignment I had collected two times before but still, my students were struggling with the concepts. I had retaught the lesson twice and it still just wasn't sinking in for them. So, I thought, I know, I will have the students who do get it (there were 7 of them) get into groups with the ones who don't get it and I will have those 7 students be the leaders of the groups. I thought that maybe if the students were teaching it, the other students might get it better because I wasn't getting anywhere with them. So, before the students came in, I had grouped them up and assigned each group a leader. I explained to the class that the leaders of the groups understood the concepts and I was going to have them teach the other group members with the hopes that then everyone would be ready to move on.
Well, just as I was about to let them start working together 3 different groups said, um, Mrs. Price, our group leader isn't here today. They were left without someone to teach them, they were left without the leader. I quickly realized when looking at who the leaders were that it was three of my undocumented, immigrant students. They weren't at school as part of the Day Without An Immigrant Movement. These missing immigrants were the students in the room who understood the concept well enough to teach it, these were the kids who I was depending on to lead the other kids. These were the kids I needed most today.
I tell this story because I want people to know that immigrants are more than just dishwashers, cooks and maids. They are doctors, lawyers, teachers and scientists. And for me today, they were going to my leaders, they were going to help their peers. The impact in my room was significant. A Day Without Immigrants in my world is so much more than not having a dishwasher at my favorite restaurant. A Day Without Immigrants in my classroom is incomplete and honestly, today it was terrible. I can't wait for them to come back!
Join our Facebook group Principal Life for more conversation about and insights into the challenges of school leadership.