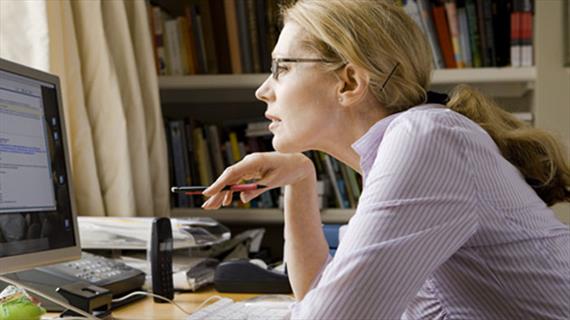 Thinking about going for an MA or even a PhD? More and more teachers are choosing to do their professional development though classes conducted completely or partly online. We asked hundreds of teachers who've gone the online route to share their tips on how to know if the online option is right for you and how to succeed once you start.
1. Do Your Research
Online schools vary in quality and price just like traditional schools, so do your research before you apply. Many teachers expressed a preference for online programs associated with a brick and mortar school. "I'm applying to online schools right now, wrote teacher Jordan McNeill, "and I'm only considering schools that are NCATE accredited." While having the stamp of approval from the National Council for Accreditation of Teacher Education is a respected standard, local and state requirements are equally important. Make sure that both the degree and the school you are considering are on the approved list for your state and district.
2. Consider a Blended Program
If you are concerned that you will miss the face-to-face interaction of a regular classroom but need some of the advantages of online, look for a blended program. With a blended program you attend class in person once a week, once a month, or even for a week every semester—depending on the program. "I have taken several online courses," writes teacher Bonnie Leidy, "but the one I enjoyed most was a hybrid course. I liked how it allowed for some face-to-face discussion and some online interaction."
3. Sooner is Better Than Later
If your school district offers a pay bump for an advanced degree, the time to go back to school is now. "Get that Master's early," advises teacher Cathe Dreher. "That gives you more years to see a return on the investment you made in your education—and let's face it, it never gets easier or more affordable to go back to school."
4. Get Serious About Technology
Before you start, make an honest assessment of your technology needs. To begin with, you will need a computer of recent vintage, a printer, and reliable broadband Internet service. "When I started my first online class last fall, I was planning to share a laptop with my daughter who is a freshmen in high school. I laugh about it now," writes Texas teacher Julia Wallman. "By October it was a clear a second computer was an absolute necessity."
5. Carve Out the Time You Need
"I completed my master's degree and my doctorate through online programs," writes Amy Anderson. "It was a great way to continue my education without the extra issues of travelling to campus at set times." While online classes save time in some ways, you can still expect each class to devote between six and 20 hours a week to online class time and homework. "It takes a lot of self discipline," explains Anderson, "but it's worth it."
6. Make Online Friends
Reach out to some classmates whose contributions you respect. "You need a friend in your class that you feel comfortable trading emails with and asking questions," suggests Kelly Colvin. "It's best not to work in isolation." Teacher Kathlene Goldin agrees, "I suggest reaching out to others who are a little ahead of you in the program. You need a good support group."
7. Keep a Calendar
Working full-time as a teacher and taking courses is incredibly challenging. Just a few days of writing report card comments can easily leave you scrambling to catch up. "Keep a calendar and start assignments far earlier than you might typically start them," suggests Sue Beard.
8. Be Willing To Speak Up
Online classes give lots of opportunities to reach out to the instructor and classmates. It's important to seize onto them. If you are confused or need help, let your instructor know. Check to see what kind of mentors and tech help the program has. "The best thing for me about the program I chose was the mentor who I checked in with every other week to make sure everything was on track," offered one Tennessee teacher. "I felt like the school was behind me."
9. Give it Your Best
One of the big myths about online degrees is that they are easier than traditional courses. Many of the teachers we heard from reported that their online classes were just as hard or harder than their previous college experiences. "Come to learn and push the boundaries with your own research and you will not be disappointed," advises teacher James Dunn. "It is very true that you will get out of it what you put into it."
Feeling ready to try an online course? Right now Fresno Pacific University is offering four free courses on the Common Core. Check them out here.
Plus, find more advice on professional development and online learning on our Professional Teacher page.