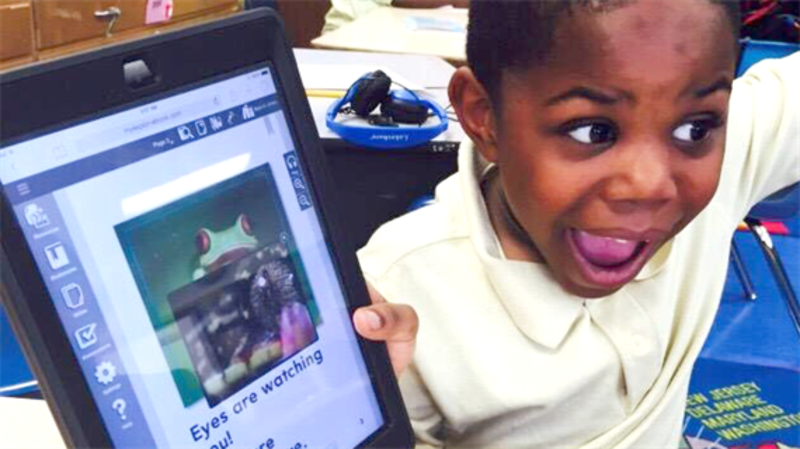 Brought to you by Teacher Created Materials
More
It's tough (and expensive) to stock enough fiction and nonfiction books in your classroom library to meet all the reading levels and interests of your students. That's why this week we checked out Explor-eBook, a Web-based browser and tablet app that can add more than 500 titles to your classroom. We asked three teachers to try it and share their ideas for using Explor-eBook for reading instruction in their K–8 classrooms. Here are eight of our favorites:
1. Make independent reading interactive.
If your classroom has tablets, Explor-eBook could be a great option to make independent reading time more exciting. Teachers and students can both filter Explor-eBook's titles by reading level, subject, author and topic. Once kids find books they like, they can start reading right away. The "assign" option is one of our favorite features—teachers can choose titles for their class, reading groups or specific students.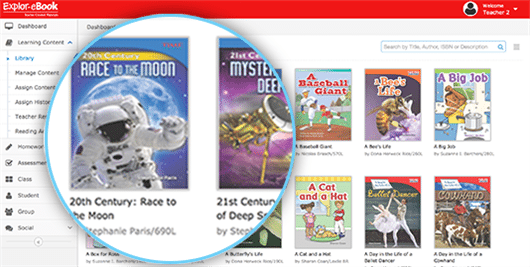 2. Add a little audio to your free reading time.
Audio can be a really powerful classroom tool—especially for struggling readers. The digital titles in Explor-eBook's library have professionally recorded audio and read-aloud features, and we think both tech-savvy students and reluctant readers will become more enthused about reading thanks to those interactive features. Second-grade teacher Caitlin Bawden noted, "Many of my students are ESL and generally have difficulty responding in written text. Audio recordings are my favorite format for them."
3. Turn reading-comprehension checks into games.
Here's a cool way to sneak some learning into what seems like a fun game. The pop-up glossaries throughout the text and comprehension activities at the end of the titles are super-engaging. Students may even mistake them for games! Of course, these digital tools are actually designed to help kids with language development, but you don't have to tell them that.
4. Get a handle on homework assignments.
Tired of checking tattered reading logs every day? Not only can you assign books, you can also use Explor-eBook's homework-assignments feature. This lets you see which students complete their reading—either during independent reading time or at home—without requiring yet another worksheet. Third-grade teacher Kim Kringe shared, "I could definitely see using the feature on a regular basis. How great to be able to make a little reading assignment align completely with the skill-practice done in school!"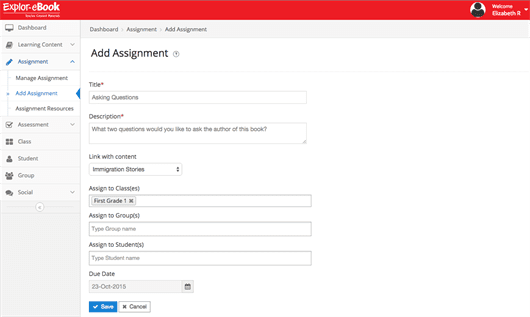 5. Save a ton of time with built-in fluency checks.
We give Explor-eBook major bonus points for the fluency-checks feature. It's something we haven't seen in other e-reader programs, and it's especially helpful for lower primary grades. Students can record themselves reading aloud, and the app benchmarks each student's fluency and records progress. Teachers can track student progress as well as evaluate speech. Bawden said, "We spend so much time testing kids to see what level they are at and checking their fluency. With a program like this, we may be able to cut back on the amount of testing we do!"
6. Prep kids for the big tests.
The words "assessment" and "testing" don't usually conjure up the most positive connotation for teachers or students, but these assessment tools may be an exception. Our teacher reviewers appreciate that the assessments are framed to mimic standardized tests. "It's a great way to set goals as well as check for understanding, and it prepares them for standardized tests—the more prepared the better!" said third-grade teacher Abbie Decker. The app also records how long it takes students to complete and provides more data on student progress.
7. Uncover a new stash of lesson plans.
With Explor-eBook, teachers can get their hands on lots of original lesson plans. Our teacher reviewers think the lessons—especially the nonfiction book report and science-research-project lessons—are strong and unique for their classrooms. Kringe said, "The lesson plans unleashed a new possibility for this program. They can be used for whole-group skill teaching and re-teaching."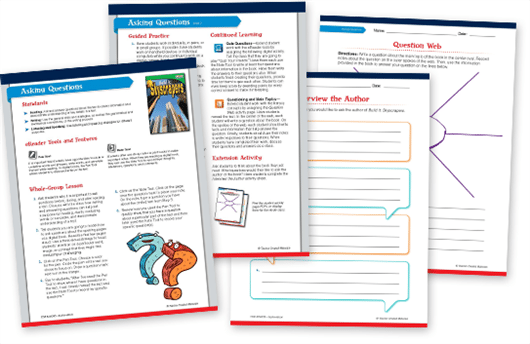 8. Get your kids blogging.
Explor-eBook even has a blog feature that's a cool way for upper primary and middle school students to start digital journaling. Students and teachers can also comment on one another's blog posts, facilitating online classroom discussions and allowing students to practice real-world digital-article authoring and commenting.
Ready to check it out? Teacher Created Materials is offering a free 60-day trial subscriptionexclusive to WeAreTeachers users. After the trial, the cost for a classroom subscription (for one teacher and up to 35 students/other users) is $249.