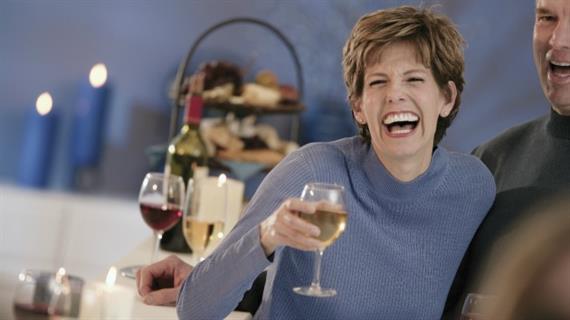 We talk all the time about how great learning centers are for kids, and they are. I remember LOVING centers as a kid—the organization, the fun of rotating, not getting bored with any one thing for too long. When I do stations with my middle school students, they also have a blast.
A while ago during a Very Important Meeting I had a thought: What if teachers had centers?
Then I started making a list in the form of a fake lesson plan on the handout they gave us.
And now that list is on the Internet.
1. Wine and Coffee Station
Teacher will taste wine and coffee samples from a variety of regions. As an extension activity, a description of each region will be provided with information that teachers can read. (However, reading/learning is not required and samples can be downed at the teacher's discretion.)
2. Positive Affirmation Station
Teacher will receive 15 minutes of positive affirmation from a former student who is now a happy, well-rounded adult. (Note: Be sure to have Kleenex available at this station for criers.)
3. Nature-Sounds Station With Noise Canceling Headphones
Teacher will self-select a nature soundtrack based on his/her interests. Have teacher wear noise-canceling headphones to prevent interference. (Note: Napping may happen at this station and should be encouraged. It shouldn't affect teacher's ability to participate in Station 4. Teacher may also elect to turn nature sounds off and sit in silence.)
4. Nap Station
Teacher selects from an array of pillows, blankets and cots to take a nap. Snoring is permitted. (Note: For teachers struggling to fall asleep, have recordings of professional-development sessions they've already attended on-hand.)
5. Craft Station
Ask teacher ahead of time to select a craft from Pinterest and have materials ready. Encourage the teacher to select a craft that is not related to education, since teacher will likely have mastered the skill of educational crafts before participating in the station. (Note: Try to guide teacher away from crafts involving crayons, including but not limited to crayon wreaths, crayons on canvas that have been melted by hairdryers, crayons glued to pencil cups, etc.)
6. Pictures of Cute Baby Animals Station
Teacher will flip through photo album filled with pictures of baby animals. Squealing is encouraged.
7. Cupcake Station
Teacher will frost and decorate a cupcake. (Note: Some teachers may find the process of frosting and decorating overwhelming. For these teachers, provide pre-frosted cupcakes to lower the affective filter.)
8. Dart Station
Teacher will throw darts at a specified target. Life-size pictures of politicians who consistently demonstrate a complete disregard for teachers can serve as excellent targets. (Note: If available, an archery station is highly satisfying for teachers.)
I think I'll send this list to all the principals in the United States as a suggestion for their next faculty meeting or professional-development session. I'll let you know what they say!
What teacher centers would you add?