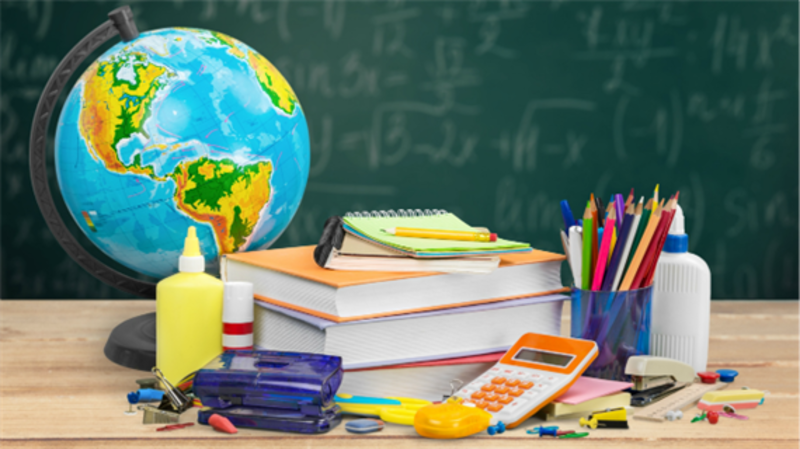 We understand the struggle of purchasing school supplies and the yearly battle to have enough money to cover all your classroom needs. On average teachers spend roughly $400 out of pocket on supplies for their classroom throughout the school year. That's a lot of money out of your pocket!  To ease the burden, we have a few quick tips today to help you stock your classroom for less this year.
#1 Take Stock of What You Have
You might be surprised to discover how many supplies from the previous year are still useable. Pull all those loose pens and pencils that accumulated in your desk last year. We know brand new pens are super fun. So take all the old ones and bundle them together into a lost utensil box. Let students grab these when they need a pencil and keep the brand, new shiny ones for yourself!
#2 Shop on Facebook
This might sound crazy but you can actually find great deals on supplies on Facebook. Join your local buy and sell groups. Many communities and cities have dedicated groups. Post that you are looking for supplies such as extra paper, scissors, glue, craft items, etc. Many people have extra things and will sell them cheap and often just give them away. If you've never posted in one of these groups before, try starting your post with "ISO:" to make it easy for others to see this is an In Search Of post.
#3 Ask Outgoing Teachers
If you know a retiring teacher, ask her if you can purchase her leftovers. Many teachers will sell or give their old items to another teacher when they leave. You can also check thrift stores. Outgoing teachers often donate their items and you can find workbooks and other supplies. Freecycle is another resource to find free things from others.
#4 Office Supply Stores
Office Depot, OfficeMax and Staples have HUGE back-to-school sales. They feature big loss leaders to get you into the store. If you are diligent and shop just the loss leaders you can accumulate a large amount of supplies for your classroom for very little. You will need to shop every week since the prices change and new items are featured each week. The loss leaders also usually have imposed limits however these limits are often higher or even waived for teachers. Check with the store manage before you shop.
#5 Price Match
Walmart and Target both offer price matching. If you find the same brand and size item at another store for less, you can price match to get the same deal at Target and Walmart. This is a great option if you don't have time to run all over town to various office supply stores. Toys R Us typically offers $.25 Crayola crayons once or twice during the summer. This is a great time to price match so you don't have to battle the toy stores.
#6 Make a Class Wish List
Make a list of supplies that you need for your classroom using Teacher Wish Lists or Amazon.com Wish Lists. Send it out at the beginning of the year and after Winter Break. You can also include a link to the list in your email signature. This way parents can easily give you exactly what you need for the classroom. If a wish list is available, maybe they'll go this route instead of yet another mug at Christmas.
#7 Shop Clearance Sales
Usually the first week of September we see big discounts and clearance sales on school supplies. Hopefully you'll find some of your wish list items at a deeper discount. We love Target especially for Back-to-School clearance. They bring in a huge amount of supplies for Back-to-School in early July and need to move it out to make way for Halloween. You should see discounts from 50-70% off.
Over the next few weeks, we'll be highlighting our Top 10 School Supply deals of the week. This will be an easy way to quickly find the best bets. So keep checking back. We want to help you have the best year for less this year!