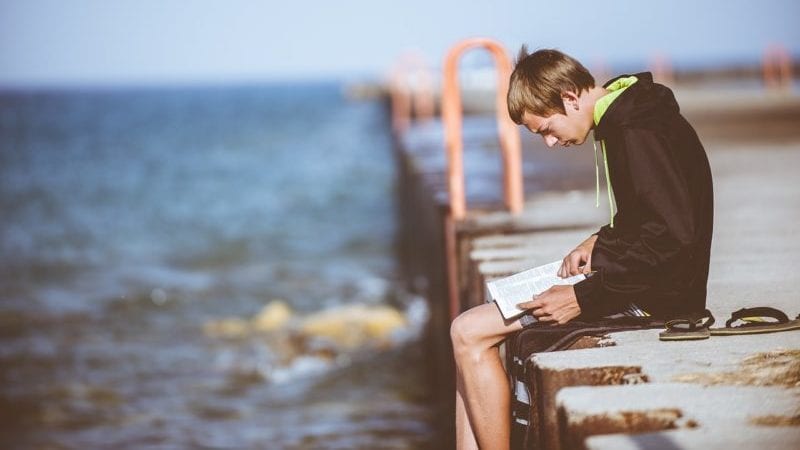 There's no question that parents are our best partners when it comes to preventing summer learning loss. But convincing 32 fourth grade families to do reading and math over school vacation is no simple task!
Some parents believe the break should be free from any school-related tasks, and they resent the intrusion on family time. And the truth is, they may be right when it comes to assigned summer reading. There's a strong case to be made that by sending home lists of award-winning books to read, we aren't doing summer reading the right way.
Other families understandably feel too busy or overwhelmed to nurture their children's skills in a meaningful way. They may be struggling to provide for their kids' basic needs or simply reluctant to nag them about One. More. Thing. (We've all been there, right?)
The key to winning parents over—and to ensuring that kids continue reading, writing and problem solving over the summer months—is to make summer learning important, doable and, most importantly, FUN!
Here are seven tips for recruiting your students' parents as partners in summer learning:
1. Share the facts about summer learning loss.
Parents need to know that you aren't recommending summer work because of your never-ending love for weepy Newbery winners, but because study after study has shown just how important it is. When students don't read, write or solve problems over the break, they actually aren't hitting "pause" on their learning, they're hitting "rewind." Here are three facts every parent should know:
Students who don't practice reading or math over the summer lose an average of two to three months' worth of skills.
Over half of the reading achievement gap seen in low-income students can be attributed to summer learning loss.
All kids lose an average of one month of spelling skills over the summer.
2. Start the conversation early.
Parents are less likely to feel blindsided by your request for summer skills practice if they have been your partners in education all year long. Look for fun, informal ways that families can reinforce what you are learning now, and then make summer learning a natural extension of that conversation. For example, you might send home a list of suggestions for talking about fractions at home (in cooking, sewing, construction, etc.), and then a reminder to keep doing so over the summer.
3. Make summer learning recommended, not required.
This may already be the policy in your district, or it may be as controversial as getting rid of pizza day in the cafeteria. Either way, we believe that summer learning finds more parent buy-in when it becomes a "want-to-do" rather than a "must-do." Like it or not, there's a mentality that summer reading is a chore for both parents and kids, and making it optional (but really, REALLY fun!) goes a long way toward turning that mentality around.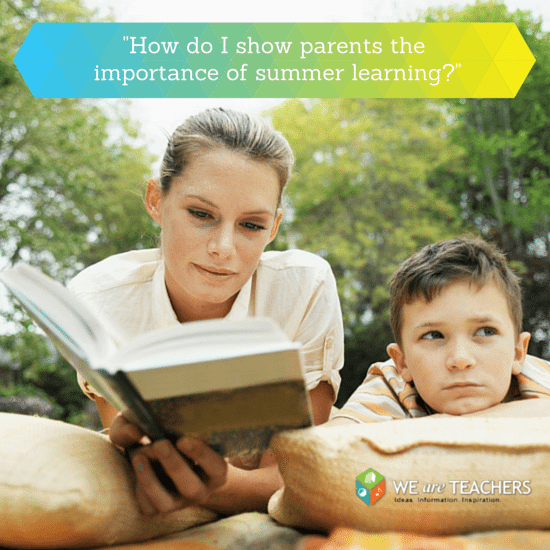 4. Share recommended resources.
Send students home with a list of family questions and games, recommended summer reading, or information about exciting reading incentive programs. But keep it concise (a one-pager is perfect) and be sure to follow up after the end-of-the-year craziness has died down: We like to send an email about a week after school has ended with the list of resources attached.
5. Think beyond the assigned summer reading list.
These lists may have their place in some alternate teacher utopia where every student shows up on the first day having read A Separate Peace and jumping up and down in their seats to talk about it. But in this world, you know the drill: Your questions are met by blank stares, even by the kids who did the assigned reading (way back in June, so they can't remember it).
Indeed, assigning specific books just compounds the feeling (for kids and parents!) that summer reading is boring and that their free time isn't valued. Instead, summer learning should connect with how kids actually spend their summers, with an emphasis on play, exploration and hands-on learning. In our next post, we'll go into more detail about how to achieve this and make summer learning fun and enjoyable for everyone.
6. Get on the same page as your colleagues.
There's nothing more frustrating for a parent than having his or her child spend hours working on a summer learning project assigned by the second-grade teacher only to have the third-grade teacher never mention it. You can avoid these snafus by talking about summer learning recommendations as a team, including the skills you want kids to focus on and the goals you want them to achieve.
Of course, sometimes this kind of teamwork is challenging, in which case we recommend being as clear as possible to parents (e.g., "Your child will not have to turn in his or her summer writing journal, but I believe this is an important extension of the work students have been doing all year.")
7. Check in to see how it's going.
It's funny how we often introduce ourselves to our new students over the summer but rarely communicate with our old ones. Try bridging the gap by sending a postcard, email or text message to your former students' families, making sure to include a suggestion for summer learning. "Just read this novel and thought you would like it, Marie," or "Have you checked out the new dinosaur exhibit at the museum, Jack? It's free on Tuesday nights." Students will love hearing from you, and parents will too!